So far, we've loved what's happening with The We Time Project that we introduced last month: In order to help you connect more with far away friends and family around shared experiences,  we've been offering our readers 30 days worth of unlimited free online courses from our partner The Great Courses Plus.
We've all missed a whole lot of connections over the past year and it's been fun to bond with friends or family trying a new craft or hobby together (Kristen and I learned food gardening, but she's kind of kicking my butt there!), or something else you love.
And with Mother's Day coming up, we thought it would be nice to use this as an opportunity for us to connect with our own moms — or stepmothers, godmothers, or hey, if you're a mom yourself, just with another mom, right?
Consider it a gift to yourself. An experience gift.That's what we-time is all about.
So I started looking through the range of courses on The Great Course Plus to take with my own mom — yes, this mom — and gah, I got stuck!
Update – we've picked a course! Scroll down for the announcement
With my mom on Mother's Day in the pre-mask times. Isn't she cool?
5 cool courses from The Great Courses Plus to take with my mom
Here are the top 5 I'm considering right now, and hey, help me choose!  And if you find one that looks great to you,sign up for 30 days free through this link.
1. Baking with an actual CIA instructor
With apologies to my thighs, I was so excited to see The Everyday Gourmet: Baking Pastries and Desserts, taught by James Beard winning pastry instructor and Culinary Institute of America instructor, Stephen Durfee. Wow. Do you know what a CIA education costs? This one will be free to us. And you!
2. Tour the National Parks
Our family has really missed travel, and we've wanted to see some more of the National Parks together. So I love the idea of taking the Great Courses Plus course in Wonders of the National Parks, taught by geologist, journalist, and educator Ford Cochran. He was was Director of Programming for National Geographic Expeditions, and it seems like a wonderful way to figure out which park gets us most excited to visit.
Plus, he comes at this course from a geological and scientific perspective, so this would be a super cool course for a STEM-loving kid. Or my stepfather, who's a retired environmental educator. Actually, he'd love this!
3. The impact of Hamilton
We're all big Broadway fans in our family, and when I saw a streaming course on How Hamilton Revolutionized the Broadway Musical taught by Columbia University's Dr. John McWhorter, I was like, whoa…this is perfect. This is actually a single, 12-minute college style lecture, which is kind of fun.
Oh, and have you ever heard my mom's rendition of "You'll Be Back?" I'll save that one for you for our live Facebook chat on Monday, April 26. (Don't kill me, Mom!)
4. Word nerdery!
We're word nerds in my family (you can't be surprised if you know me), and I think we'd really love the Language A to Z course also taught by Dr. John McWhorter. There are 26 clever videos, literally A to Z, each just 14 minutes long. Think: F is for First Words, which help us understand why mama and papa tend to be a baby's first words in so many languages. Or L is for Like, which breaks down the "like, oh my God" pet peeve of using like six times in a sentence — and how it actually has some reasoning behind it.
And since I admit I've already been watching this course for fun, turns out…Jane Austen used literally in the non-literal way we all complain about today.
(See? Word nerd! I love this so much!)
5. Improve your…what? Oh, right. Memory.
I'm probably not going to get too into personal, self-help videos with my mom but since we both love the series Brain Games, I think we'd both also enjoy taking Secrets for a Powerful Memory together.  It's just six 30-minute videos, and how can I resist a course that promises you can "tap into your brain's hidden potential and increase your memory capacity?" It's taught by Dr. Peter M. Vishton, who teaches psychology at The College of William & Mary. He has a wonderful demeanor, after watching some previews I thought, "hey! Turns out I like neuroscience!"
*WINNER!! Thanks to the input from our readers, my social networks, and of course my mom, we've decided to take the memory secrets course this week! — and we'll be sharing some of the best tips we learn on Facebook this Monday, April 26 at 8PM EDT/5PM PDT!
Note: I just want to say that I'd love to take the course on The Great Revolutions Through Modern History with Dr. Lynne Anne Hartnett — but that's probably one I'd do on my own, not with my mom.
Want to join us? It's free!
We're going to be chatting about our experience with the course and what we learned on April 26, on the Cool Mom Picks Facebook page at 8PM EDT/5PM PDT,  complete with special guest appearance from…my mom!
And if you want to take the same course, awesome! Or hey, I'd love to hear whatever you're learning about — mixology, illustration, singing, traveling, money management, yoga — take as many as you want.
Just sign up for The Great Courses Plus through this link. It's totally free, with unlimited access for 30 days. Of course, if you sign up for a year right now, you get a fantastic discount, plus unlimited streaming of 13,000 + videos for an entire year.
And of course, you can take a course with your own mom for Mother's Day, or any friends or family at all, and then you'll create your own We-Time Project.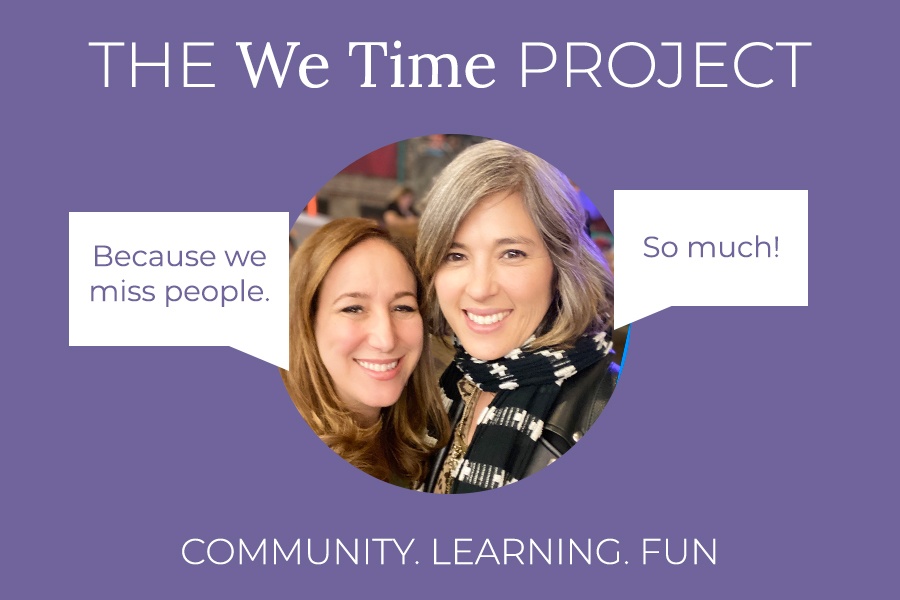 That's it! Our hope isn't that you'll just learn something new and cool, but create some connections through shared experience that have absolutely zero to do with "my kids are making crazy" or "OMG the news today" or anything pandemic related at all. I know I can use more of that for sure.
Log onto The Great Courses Plus through this link to start your free month trial.
Then mark your calendars for our Facebook Live chat about SECRETS FOR A POWERFUL MEMORY on Monday, April 26, at 8PM ET/5PM PT