Trending right now. As in, this second.
You are listening to our podcast, right?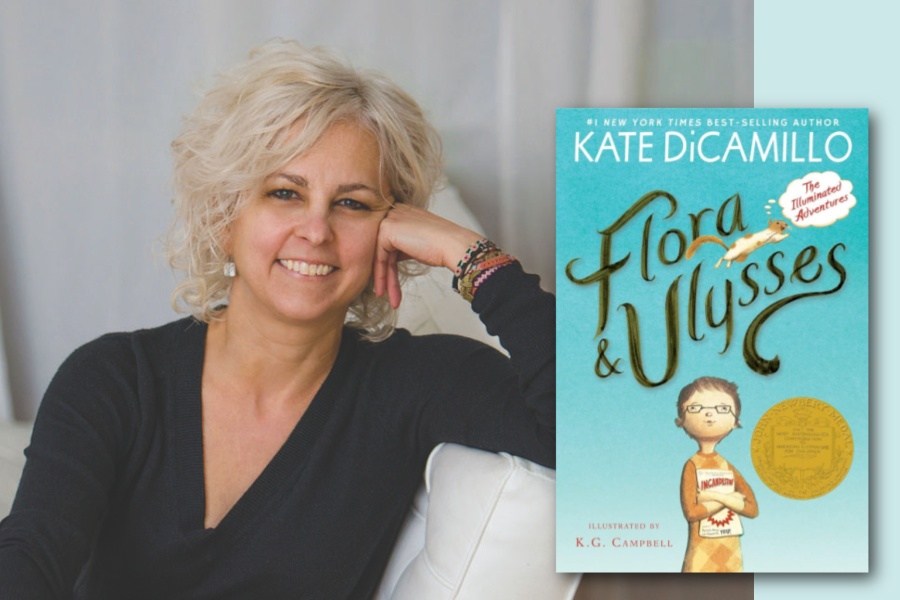 It's a bit of a statement say we fan-grilled a bit over this week's guest on the Spawned Parenting Podcast, two-time Newbery award-winning author Kate DiCamillo. Surely you know her incredible children's books like The Tale of Despereaux,  Because of Winn-Dixie, and...
Fair warning: This episode may really make you miss your IRL get togethers with your favorite mom friends, because that is exactly what this conversation with Dr. Janice Johnson Dias feels like. We knew that talking to Janice would be helpful, but to be honest, we had...
With gender reveal parties on our minds these days, we were so glad to chat with author Lisa Selin Davis about gender stereotypes and what parents need to do to start to changing them, all of which she talks about in her new book, Tomboy: The Surprising History and...
So much coolness. Where to start…
Every year (since 2008!) we've scoured the internet to find the coolest Advent calendars to help you -- and your excited kids -- count down to Christmas. In spite of all the hardships this year has thrown our way, or maybe because of them, I am determined to squeeze...
I tweeted this week that I've become the person who carries essential oils in my bag for stress and anxiety, and wow, it turns out I'm not alone! A lot of people asked what I like, the best essential oils I've found so far, hail from Aura Cacia. I've been sent a lot...
Yes, yes we know what's going on in the world. But if you need a little break from watching the news, we've got a new Spawned podcast episode just for you, that all started from a post in our Spawned podcast community. (Yes, we are consistent with naming things, if...
You might have heard, but there's this election coming up in the US on Tuesday, November 3 and it's kind of a big deal. Not just because we'll be electing the next president, but a lot of Senators, Members of Congress, and important local and state candidates that...
It's not too late to make this Halloween awesome, even if you're doing everything last-minute. And that includes last-minute costumes. Liz recently some incredible ideas for alternate ways to celebrate Halloween besides trick or treating this year, and we even came up...
As a movie buff, I tend to be skeptical of reboots. Especially reboots of movies like Roald Dahl's The Witches which became an instant Halloween classic in the 90s. But the 2020 version, now on HBO Max, is more of a reimagining than a reboot. And a needed one, at...
I've myself spending a lot of time lately searching for terms like the best mascara for short lashes, the best mascara for thin lashes, the best mascara for volume...you get the deal. Partly it has to do with hitting the other side of 40 (and beyond). Partly it has to...
For some of us fans, the Tim Burton cult favorite The Nightmare Before Christmas is not just a movie you watch around Halloween. And then some of those people grow up to become moms. And when they do, now at last they will have access to the very diaper bag they never...
The truth is, I don't need an excuse to play scary board games for Halloween with my. kids. We're full-fledged board game geeks at my house, and all games are an option for us, any time at all. But with so many families looking for safe trick-or-treat...
I'm throwing everything into a Mandalorian watch party when season two launches on October 30th (whoo!). because to 2020, we haven't had many reasons to celebrate. Of course, I'm using the word "party" loosely here -- I'll be streaming the show with my immediate...
It's official: I'm writing about safe trick-or-treat alternatives after weeks of putting it off. The CDC has even officially recommended against trick-or-treating during COVID-19, at least in the traditional way, and oof. I need some safe  trick-or-treat alternatives...
Not every kid comes out of the womb loving reading. (Or, even comes out of preschool loving reading.) No matter how much you read to your kids or encourage reading, sometimes it just doesn't click right away. And that's okay! After years of writing about this -- let...
With winter around the corner, I know so many of us are in full prep mode. Or at least as close to full prep mode as we can be while also managing work, online school, and preventing a household COVID outbreak. Oof. So I've tried to take some of the leg work out of...
It's encouraging to see how many parents have asked us for voting activities for elementary students or any kids too young to vote this year.  With the election just a few weeks away, our kids have surely heard us talking about different candidates, issues, and ballot...
Raising money for UNICEF at Halloween has become a tradition for many of our readers and their kids, and it's a cause we've supported since the very beginning of our site. That's a long time! So we're thrilled to announce that this year, even with all lots of...
Are you a parent or caregiver who plans to vote in person on Election Day? We have good news! Care.com and the Armed Services YMCA are teaming up to bring free childcare for parents who need to get to the polls on November 3rd. So brilliant. And considering all that...
Parents have always played a huge part in kids' reading skills, but that's never been more true than it is now. It's not just our toddlers and preschoolers either. Yay, virtual school. (/scarcasm) So we were so happy to chat with ah absolutely fascinating guest, Dr....
Just can't quit Amazon? Especially on Prime Day? We get it. Here are some of the best Prime Day deals, as in not the stuff that looks like it was salvaged from your Great Grandma's tag sale. (Not like we wouldn't still look though.) And not the stuff that's 1% off...
One of the proudest badges of participation in our democracy that we can wear is the little I Voted sticker after we walk away from the polls on Election Day.  But this year, so many more of us are casting absentee ballots, voting by mail (which is safe!) or dropping...
Stronger than an off-the-record anonymous White House source. More powerful than a mask worn under your nose. Able to get more Americans believing in science in a single press conference. It's epidemiologist Dr.Anthony S Fauci! And soon, he'll be available as your...
We've had quite a few readers ask for some trick-or-treat-signs for candy this Halloween, at a time that we may want to hand out candy but uh, maybe in a no-contact way. And hey, we found some great ones, most of them affordable printables. The good news: Halloween is...