Trending right now. As in, this second.
You are listening to our podcast, right?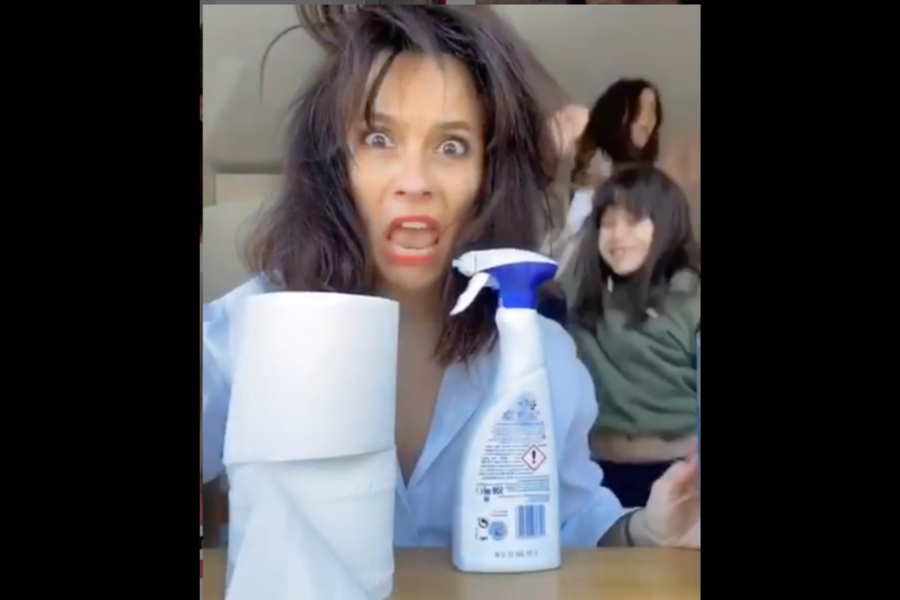 Tova Leigh is the exact person we needed to talk to this week. At least if these days, your dream social life would include time with a few friends for some real talk, real laughs, some needed venting, and a random reference to clown sex. No wonder this episode was...
Real parenting talk: Emotions are up and down in the age of Covid, times are stressful -- in fact we both just got the "school is cancelled for the whole year" notices. Sigh. We definitely are not trying to "win" quarantine with 800 millions Instagrammable family...
Parenting is hard. We know that's an obvious statement. But some parts are decidedly harder than others, and one of them is discipline. That's why we're happy to be chatting with school psychologist Lynn Burrell, who's also the co-founder of our sponsor Weldon. She...
So much coolness. Where to start…
Galentine's Day is February 13, and if you don't know about it yet, prepare to become a fan. It was created by Amy Poehler's Parks & Recreation character, Leslie Knope, to celebrate strong female friendships. In Leslie's own words: Oh, it's the best day of the...
We've recently shared the scientific research behind a baby bedtime routine, and one of the biggest of that is giving your baby a bath. While it may end up being one of the most enjoyable parts of your evenings (with the best memories and the best photos to prove it!)...
As a life-long bookworm, I am always looking for ways to get my three teens to put down their phones and read more books. Sound familiar? Then check out the coolest, new-to-me concept in book publishing: Penguin Minis. These novels for teens and tweens are turning the...
Last year, I was invited to visit the Nickelodeon all-inclusive Hotel & Resort in Punta Cana on a press junket. The truth is, I hesitated a bit. I tend to be a more intrepid traveler, though I do love the convenience of all-inclusive beach resorts for family...
Oh hey! It's been a while since we brought you Web Coolness, our roundup of the stuff we're reading and liking around the web. Well, we're bringing it back to life, only different. (Kind of like a Pet Semetery thing, ha.) It's going to be more personal.  Think of it a...
On this week's Spawned parenting podcast, we are tackling a VERY SERIOUS SUBJECT. So profoundly serious, it could literally save lives. And it will. Because sure, you've covered your light sockets and put the Tide Pods on a high shelf, but do you know every danger out...
On this week's Spawned parenting podcast, we're focusing on about raising sexually healthy kids. i.e. How to have the sex talk, what to say, and how it's changed over the years. I don't use the term "brilliant" lightly, but that's how I feel about these ideas from our...
2020 is already underway., and normally we'd have shared our annual list of our favorite printable calendars with you for the year. But with some of our kids back in school late this year, combined with and some of the recent stories on the news, we may be a little...
In light of this week's rapid increase in tension between the US, Iran, and Iraq, my social feeds are packed with parents sharing similar sentiments as Asha Dornfest did on Twitter: My children and their friends are sharing WW3 memes to cope with their fear and anger....
When I shared the news about the 12 million acres destroyed (so far) and thousands displaced in the current Australian fires, my always-on-social-media daughter was shocked. Why hadn't she seen this? And what could we do to help? Well, why haven't so many of us seen...
It's time to make your 2020 reading list! This is our fifth year to round up all the year's best-of lists of children's books, all in one convenient place for you, so you can have quick access to dozens of ideas when you're at the bookstore or library. I should add...
We're so thrilled to be entering our 14th year publishing Cool Mom Picks. We know! We can't believe it either. Every year, we share our top 10 most visited posts on Cool Mom Picks. While our gift guides are often quite popular, these represent posts from 2019 that...
We've been streaming media for a few years now (and for some of us, even more), but in 2019, streaming went to a whole new level. And we're not necessarily talking about Disney+ (but we also kind of are). If you've been following award nominations this year, then you...
Two words: Baby Yoda. He's adorable and powerful, and exactly how we imagine a Baby Yoda would be if we had imagined it ourselves. (Spoiler: We didn't). He's a singular brilliant reason to become a Disney + subscriber so you get access to The Mandalorian, and is 100%...
In the past, teenagers have had a reputation with parents that preceded them. Does the eyeroll emoji come to mind? Well in 2019, we saw the rise of an exciting movement that empowered parents raising teens to see them in all their awesome, creative, out-of-the-box...
Even though we started Cool Mom Tech in 2010, this past year, we saw an exciting parenting trend emerge: tech-positive parenting. But considering how powerful this movement has been, I'm pretty sure that it's a trend that's going to be around for a very long time....
It's hard to even know where to start with this -- each of these women could be their own Editors Best of the Year, but together, they're even more powerful. And that's saying something. We have to start somewhere, so, as we often do, we'll start with the force that...
It's no surprise to anyone who knows me or my kids that we are massive Broadway fans. We are so fortunate to live in The Greatest City in the World (name that tune), which allows us to see a lot of musicals. A lot. But my kids are hardly alone in asking for show...
it's time for our annual Top 10 Editors Picks of the Year! To kick things off, I wanted to start with one of the biggest, most positive events that pops out to us as we reflect on 2019: the growing awareness of gender fluidity and gender identity,  and the increasing...
When we first started this site in 2006, eco-friendly was one of our most popular tags. Parents were concerned about where their products were made, what ingredients were in them, and how they impacted the planet. Then the recession hit. Suddenly no one wanted to pay...
There have been years that I received kind Christmas cards from family and friends that blessed me and my Atheist-slash-Secular Jewish family, wishing Our Heavenly Father's blessings upon us. They expressed hope that we have found peace with The Lord Jesus Christ....