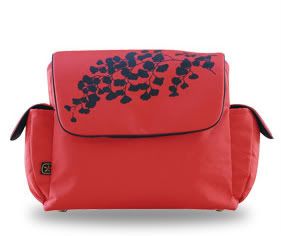 In trying my hand at a new greener lifestyle, I have to say it definitely takes effort. But this Re-Run Bag from the Fleurville diaper bag empire spotted at fantastic green boutique Generation Orange, requires nothing but the ability to sling it right over your shoulder.
At first glance it's just a incredibly covetable diaper bag, with a lovely silkscreened print and plenty of pockets, pouches, and handy extras, like a wipes case and silicone cell phone holder. But given that it's made in part using recycled plastic (10 bottles per bag, to be exact), it's extremely kind to the planet as well.
We love that Fleurville is recognized as an environmental leader in the parenting product world and supports oodles of local and national charities. And just as much, we love that carrying their bags makes you feel like earth-loving hippie, but not necessarily look like one. –Kristen
Congratulations to lucky winner Sarah S!