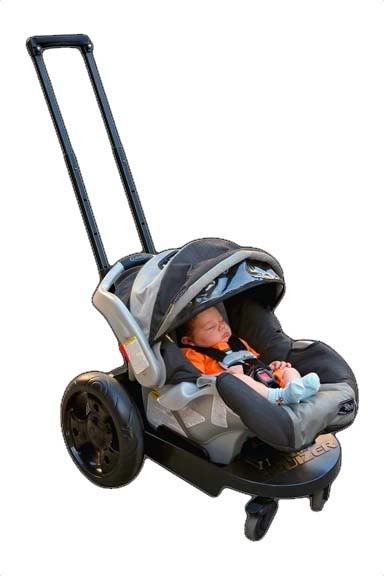 With each successive child, it gets progressively more difficult to haul around my brood. I started with one of those gargantuan travel systems that's more trouble than it's worth. Then I moved on to the stroller frame that accommodates the infant carrier. But now I've found the greatest method of baby-hauling yet invented–the Infant Cruizer from GoGoBabyz.
The Cruizer's base accommodates Graco car seats, but it
comes with adaptors to fit Britax, Combi, and Peg Perego models too. Just snap the infant carrier into the base and raise the handle to a comfortable height. That's it. Really!
The large, all-terrain tires easily handle curbs and stairs, and the whole thing folds quickly and compactly, more so than any travel system I've dealt with.
I've taken it everywhere–to the grocery store, to the airport, to the doctor's office–and everywhere I go, people ask where I got it. I've completely abandoned my poor old stroller frame in favor of the Infant Cruizer, because now, taking all three children out on my own is almost–dare I say it?–easy. -Julie