I admit that baby mobiles never did much more for my kids than keep them entertained with their robotic songs and spinning cutesy stuffed animals. But moms-to-be hoping to get a modern bit of nursery decor out of the deal should be begging for a beautiful dream ring from CMP fave Blabla Kids.
While these dream rings definitely serve a similar purpose as a mobile, they're refreshingly different. The simple knit ring includes a hanging decorative themed piece, like the lovely apple tree (pictured) or the mermaid (so cute!), all hand knit by Peruvian artisans in a fair trade working environment.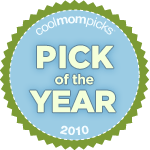 Quite frankly, these are less like mobiles and more like a piece of art, which means when your baby grows up, you won't have to pack away the dream ring with the crib. Instead, it's a lovely addition to a toddler room. Heck, if it actually makes them dream, I'm all for keeping it in there until they turn 18. -Kristen
You'll find the new dream rings and more cool nursery decor at Blabla Kids. And if you happen to live in Atlanta, visit their store front in the Virginia Highlands.