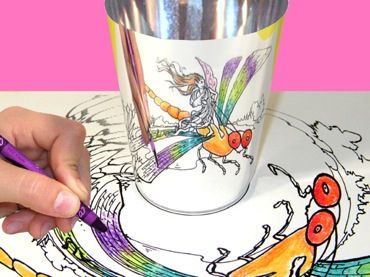 I'm not going to lie to you: When I opened the Morph-O-Scopes Kit box my daughter received for her birthday one year, I was unimpressed. Some crayons. A shiny cup. And a bunch of coloring pages with a hole in the center, the images all stretched out and weird looking.
Honestly I expected to find it all discarded on the floor within 10 minutes.

Color me surprised (with or without a shiny cup!) when this optical illusion activity and art kit kept
both children happily occupied for days. You put the paper over the
reflective cup in the center, where it's held in place and then you can view the "normal" reflected image so you can see what the
distorted outline on the paper can become. I know that sounds complicated – just look at the website and it all becomes clear.
The kids just think it's cool
and nifty, but the setup of checking out the reflection and then
working on the original paper is actually honing their fine motor skills
and spatial reasoning. And that's aside from keeping them busy and out
of your hair for hours on end. -Mir
You can purchase Morph-O-Scopes kits directly from manufacturer OOZ & OZ, or from our affiliate, Amazon.