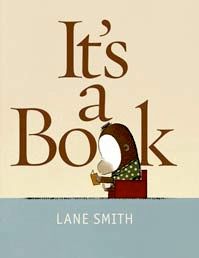 My
husband loves to joke around with my son about "those old-fashioned
paper whatchamacallits." We're all avid readers, but my husband and I
converted to e-readers a long time ago. We've actually discussed whether
or not we should bother getting large bookshelves when we redo our
son's room since a lot of what he reads is now available on the Kindle.
But the reality is that nothing can replace a shelf filled with colorful
spines, the tactile experience of turning a page and knowing that each
book can be enjoyed over and over. And then left for your mother to
clean up.
Now there's one that is worth buying for your kids in real live printed form, even for you e-book fans.


It's a Book,
by Lane Smith is the perfect picture book–and social commentary–for
the analog/digital household.
A jackass (yeah, I wish they used a different animal) keeps asking his
friend the monkey about the thing he's holding, to which the monkey
simply replies, "It's a book."
"How do you scroll down?"

"I don't, I turn the page. It's a book."

"Do you blog with it?"

"No, it's a book."

Well, you get the idea. Although it's a picture book I think
the concept is somewhat sophisticated for a five-year-old. My ten-year
old, however, loved it. With books like this we're definitely going to
need to order the large bookcase.-Betsy
Check out your local bookstore or order It's A Book at our affiliate, Amazon.