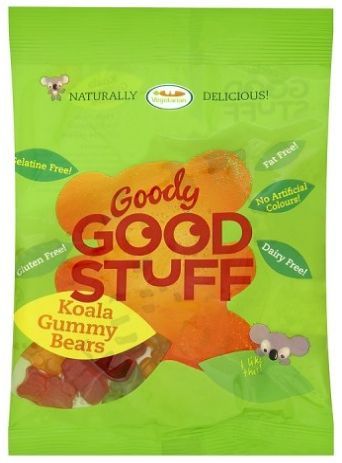 It's awesome that so many people are eating in a more mindful fashion, making organic and sustainable choices as they are able, but that's also made food a lot more complicated — and limiting. Allergies and dye-avoidance issues mean giving up some food items, and even categories, you (or your kid) really like (and on some days, really feel you need). And when that means you have to say no to candy? That's just plain sad.


The folks at UK-based confectionary Goody Good Stuff
are working magic to get you candy you can say yes to. They've rolled
out a natural gummy line, and each sweet treat's made with a
plant-derived bio-gum which sounds icky, but is a smart alternative to (eww)
animal collagen to give them that nice chewiness.
They're also free of soy, fat, dairy, eggs, and gluten, and made with no artificial flavors or colors. Great for kids with food-dye sensitivities. Vegans are in luck too: you've got several delicious flavor options like Summer Peaches, and Cola Breeze that skip the beeswax.
Best of
all? They're really, terrifically delicious. – Barbara
Find Goody Good Stuff natural gummy bears from our affiliate Amazon, or in stores like Stop n Shop