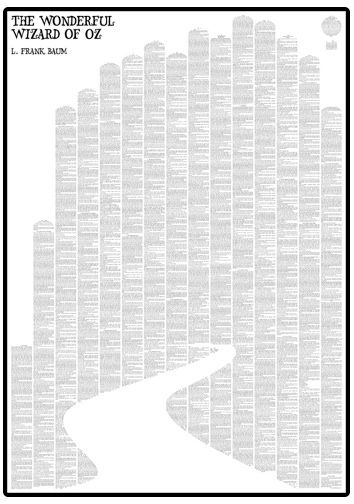 I want my kids to be book lovers, as in sneak a flashlight under the covers, beg for a nighttime story, know their way around the library kind of book lovers. So along with a sturdy bookshelf packed with favorite childhood titles and their very own library card, I love these prints that turn a storybook into something as magical as the story itself: Art.

Spineless Classics takes those beloved stories like Alice in Wonderland, Peter Pan and the Wizard of Oz and uses the words to form an image from the story, like Peter Pan with Tinkerbell or the towering cIty of Oz with a little hot-air balloon floating away.
And, yes, as hard as it was for me to wrap my head around this, that really is the entire text of the book, albeit in teeny-tiny typeface. You with 20/20 will be able to actually read it. I would need a magnifying glass and some Tylenol.
Each print is pretty big, about three-feet wide, so this would make a big statement in a room.T hough you'll appreciate that Spineless Classics has sized each print to fit in one of IKEA's affordable RIBBA series of frames, since having this sucker custom-framed would cost a fortune.
I also love that they don't just carry children's titles but also classics like
The Great Gatsby
and
Wuthering Heights
which could make a perfect Valentine's Day gift for your bibliophile sweetheart. I'm not as enamored by a few designs (is that the best they could do for
Jane Eyre
?), but there are more great designs than not great ones. Hey, not every one can be a best seller, right? –
Christina