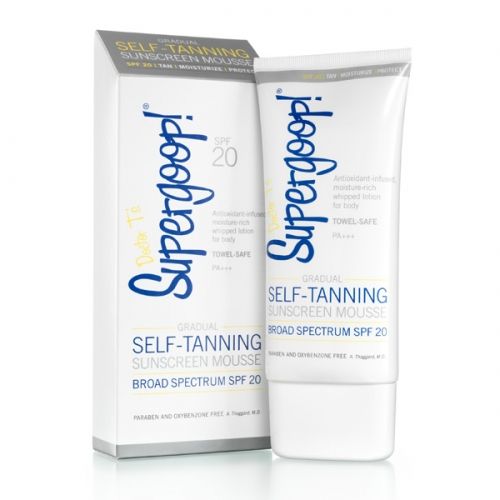 Just because I want to avoid the sun, doesn't mean I want to spend my
summer looking like a ghost. I know I'm not alone, which is why self-tanners have become so popular. And now, I've found the perfect beauty product that
gives me a gorgeous fake bake, while protecting my skin from the rays.

The new SPF 20 Gradual Self Tanning Sunscreen Mousse from Supergoop leaves an ever-so-slight kiss of golden color while saving your skin from sun damage. Pretty genius.
I used this self tanner/sunscreen for one week
straight and was thrilled to step out looking like I had just returned
from vacation in St. Tropez. The irony? My skin was probably paler than
normal because I'd been dousing it from head to toe to make sure I
didn't miss a spot. So I can vouch for the efficacy of the SPF.
My
biggest complaint with self-tanners is the nasty smell factor. This one does skip the stench, and instead is
lightly scented with a nondescript green tea and cucumber fragrance. However I'm not a huge fan of chemical sunscreens; I prefer minerals that
do not get absorbed into the skin. Supergoop uses chemicals in the
formula, but I'm glad it's free of parabens and the more questionable oxybenzone chemical.
If it were up to me, I'd spend my entire summer under a tree or an umbrella.
But with two little boys to chase around at the beach and splash around
with in the pool, what a very clever alternative. –Melissa
SPF 20 Gradual Self Tanning Sunscreen Mousse is $38 at Supergoop.com.