Diaper bags are kind of like minivans. They are super practical, but don't exactly scream funky fresh. But this new Tokidoki and Ju Ju Be diaper bag collaboration is like taking your Honda Odyssey and making it a low rider. We're talking blinged out, and we're talking awesome.

Tokidoki always gets me with their great designs and Japanese anime-inspired looks. (I'm partial to the milk carton on a skateboard, and the cactus kid.) Pair that graphic style with Ju Ju Be, a popular diaper bag, and you have a Tokidoki diaper bag that will stop traffic. (Of course, they're really stopping because your baby is so gosh darn cute, right?)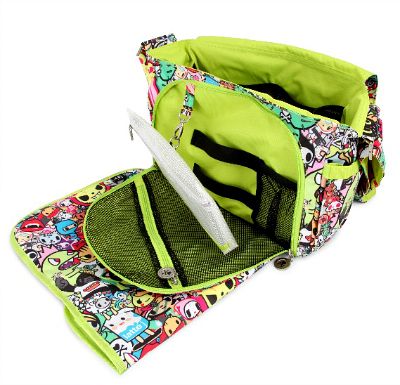 The interior is as fab as the exterior, with great compartments for just about everything. Get this: there's extra storage for baby food, a changing pad, pacifier covers, and stroller clips. It's downright drool-worthy. Which would account for the higher price of this line.
There are quite a few styles to choose from, but order yours soon. Because
believe you me
, they are going fast. And ask them to throw in some nifty stickers. They'll look great on the back of your van, and you'll officially be the coolest mom on the block. –
Eva