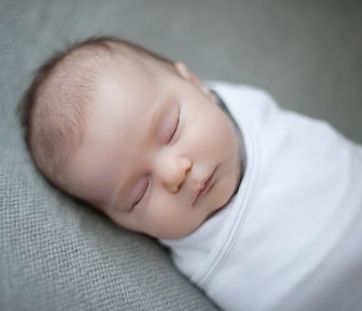 It seems like no matter when you have a baby, a couple years later there's a new product on the market you wish you'd had at the time. If it's baby time right now in your world or a friend's, you won't want to miss this snuggly wonder. *sigh*

Oh, how I needed the Zen Swaddle from Nested Bean.
This innovative new swaddling blanket is designed with lightly weighted (the key word is lightly) sections that mimic a parent's warm, gentle touch and help soothe a fussy baby. For times when mama just wants five minutes of quiet time to brush her teeth for the first time in two weeks, this swaddle is a terrific help.
When swaddled in this blanket, baby is calmed and comforted by weighted areas resting at his sides and on his chest–just as your hands and arms do when you hold him. The blanket even helps to reduce colic with its gentle pressure on baby's belly.
It's machine-washable and dryable, which we sure love. The optional instructions to "iron the Zen Swaddle on low" kind of make me chuckle, though. As for sizing: the Zen Swaddle has a little internal pouch for newborns, who can then grow into the full-size baby blanket a few weeks later. (I wish it had a third size, for sleepy mamas.)
My only complaint? The swaddle stays closed with the use of Velcro, which can be a bit of an obstacle if you need to get in there without waking baby. Rrrrrrrrrip. But, hey, maybe the blanket will work so well that you won't be messing with the baby…who's finally sleeping like a baby. –Stephanie S.
Achieve your own state of Mama Zen with a newborn by buying a Zen Swaddle at Nested Bean.