At last count, we had twelve ride-on toys in our garage so I am definitely an expert in that department. Of all these toys, I want to sing the praises of two that stand out from the crowd: The Mini Micro scooter and the oddly named Skoooch. (Yes, there are three o's)
We tried a lot of scooters until we found the Swiss designed Mini Micro (shown at top). With widely-spaced, cushiony front wheels, it's smooth and stable whether on a paved driveway or going down a bumpy sidewalk. It is super light, so you won't mind bringing it everywhere–even indoor playdates since the wheels don't leave black marks on the floor. Although I'll leave it up to you whether you'd like a toddler whizzing through your home on wheels. Another nice thing: my son was safely cruising by 2, but it can support my seven year-old too.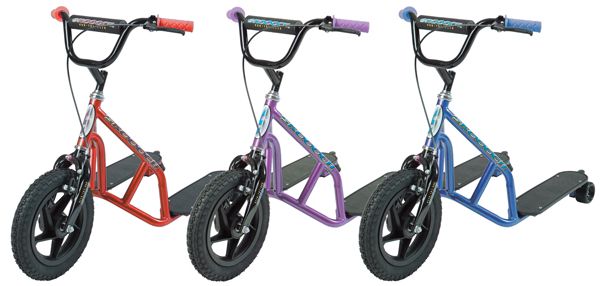 The Skoooch is made by California company Marky Sparky and is also one of those toys that every kid in the neighborhood wants a turn on. It has bike-like handlebars, two side-by-side slats for kids' feet, and turns on a dime, which I know from watching my 3-year-old cut the wheel at the very last possible second before riding into the street. Definitely not one for moms scared to let their kids off the leash. By the way–no weight limit. So even I get to jump on sometimes.
We found the Skoooch as well as the larger California Chariot on Amazon.
Yeah, we have that one too. –Christina
Purchase the Mini Micro scooter at the Micro Kickboard website.