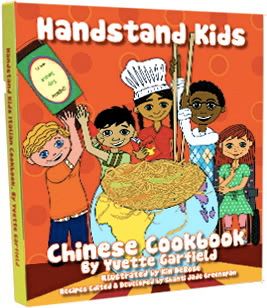 Fried chicken fingers and pink boneless spareribs are not real Chinese food, I tell the kids whenever we order take-out, and now I have the latest Handstand Kids' Chinese Cookbook to back me up.
The latest from Handstand Kids' Italian Cookbook creator Yvette Garfield includes sturdy, colorful pages filled with recipes by professional chef Shanti Jade Greenspan, along with tidbits about the Chinese culture and cuisine, and the cutesy cartoon Handstand Kids who explain things in kid-language.
All the tools and ingredients are laid out up front, which gave me a
chance to buy things like spring roll wrappers that we don't normally
have lying around the kitchen. And I appreciated the chopstick
difficulty rating system as far as planning.
Of course if you're looking for true traditional Chinese cooking, this isn't it. But you will find recipes like Belly Full of Beef and Broccoli and Year of the Monkey Mango
Smoothies, which appeal to kids without totally
Americanizing the food too much.
I was delighted when my super-picky four-year-old
gobbled up the black sesame seed and soy sauce-infused Chinese Popcorn
without hesitation. He even tried The Great Wall of Chicken Lettuce Wraps when I told him they were Chinese Tacos. Hey, it worked. –Christina


Handstand Kids' Chinese Cookbook can be purchased at our affiliate Amazon with free shipping
Congratulations to Pamela S, lucky winner of a copy of the cookbook!