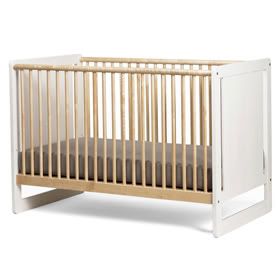 The brilliant folks at Oeuf
have listened to the pleas of cash-strapped moms like me and created a
new kids' furniture collection that is chock full of the design and
eco-friendliness of their other collections– but at about half the
price.
The new Oeuf Robin Collection includes a crib that converts to a toddler bed and a changing table/dresser,
both of which are made of 100% sustainable wood and painted with
water-based paints. The new collection keeps with the commitment to
modern design, green materials and high function that Oeuf has focused on since starting
the company in 2002.
This crib is a modern alternative to huge sleigh or frilly canopied
cribs. I like that it would fit in my small home without cramping
everything else. Of course, nothing can really fend off the cramping
that comes with four people in a tiny place, but it's a start, right? –Carrie
The Robin Collection of Oeuf nursery furniture will begin shipping in early August. Preorder the collection at sites like Genius Jones, and more.