I am in the market for a cool, eco-friendly baby play gym for my 5-month-old boy. Let me know if you have any suggestions. I am willing to spend around $100.
Thanks much.
-Jennifer C.
Finding what we would call a cool play gym takes a little searching—most of them are loud, battery-hogging plastic monstrosities—but we think you and your babe will like some of these options which are all close to, or well under, your budget.
First, we like this simple, eco-friendly play gym from Cariboo which blends in nicely with any decor. It's shown here in white, but you can also get it in espresso or mahogany, all made from New Zealand's sustainable Radiata pine. Just place a blanket or play mat underneath. (no longer available)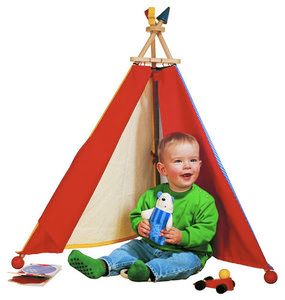 Haba's Dangle & Drape
, seen up top, has a unique look for the category, and we love that it comes with a cover to turn a baby play gym into a tent for toddlers (shown here), giving it a longer life than the usual 12 months. (no longer available online; try
Haba's Magic Forest Play Gym
instead)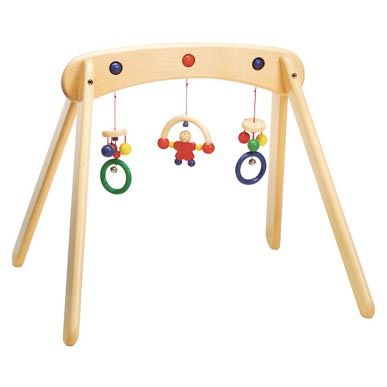 Germany's Selecta Musina Play Gym is nice and simple, with bright colors to catch your baby's eye dangling from sturdy wood, just like in the old days. It also comes in blue with a dangling Viking, for you Nordic types. The only drawback is you'll have to ship  from the U.K. since it isn't sold here in the states.
And though it's inexpensive, Ikea's 
Leka Wood Baby Gym
 is a well-made and colorful option. At under $30, this is a great one to buy in multiples to keep at grandma's house or at the sitter's so that baby always has a special place to play.
Hope these ideas help you find something your son loves!