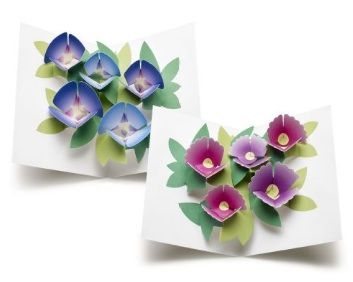 I'm a huge fan of Robert Subuda and Matthew Reinhart's pop up children's books. My son's copies from the Encyclopedia Prehistorica series show the wear and tear of well-read books. So why am I not surprised that I am awestruck by their beautiful pop-up note cards collection?
The cards are breathtakingly elegant and the Blossoms designs are a creative way of giving someone flowers for Mother's Day that won't end up dead and in the garbage within the week. Other three-dimensional wonders include cakes and hot air balloons. The sets contain four cards of two designs, with envelopes, for $21.95.
You can find them several places, but I would recommend heading over to the MoMA website. If you're a member you get a discount on all orders, but more than that, the MoMA store has the most incredible collection of contemporary designs on the planet and you get to support a great museum too. -Betsy
The Blossoms, Cake and Balloons pop up note cards are available at the MoMA Store.
And for more Mother's Day gift ideas, don't miss the Cool Mom Picks 2010 Mother's Day Gift Guide!