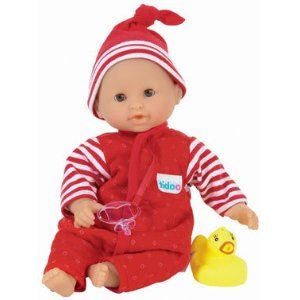 I have nothing against boys embracing pink, but when I went to buy a little boy doll for my nephew to love while his mama was caring for a newborn, I found that 99% of the baby dolls in the big toy store were of the female persuasion.
France's Corolle, the maker of beautifully made, safely constructed, age-appropriate baby dolls, seems to understand what I ran up against and has added some boy dolls to their collection, right in time for Father's Day.
My favorite is their new Tidoo Poppy boy doll in a bright red sleeper that looks like something my son would've worn when he was smaller. Tidoo Poppy can even go in the bathtub since his body is made of little beads that dry out quickly, and he'd definitely find space in my son's bed, especially since his eyes close when he's lying down (something I wish my son would do a little more quickly most nights).
For those really little guys who want a baby lovey, Corolle has added a sky blue outfit to their Babipouce collection of first dolls. Totally plush except for their tiny vanilla-scented hands and face, Babipouce can even be put into the washing machine if he gets a little dirty. Hey, these are our boys we're talking about, right? -Christina

You'll find a nice selection of boy dolls from Corolle, at our affiliate Amazon right in time for Father's Day!
Congratulations to Catherine W, lucky winner of the Corolle Tidoo Poppy doll!