We first fell in love with Green Toys way back in the day of the lead paint recalls (aw, remember those fun days?) and knew they were onto something fabulous. Well sure enough, their line has expanded beautifully since then and today they're doing some super cool things for the littlest people in our families–who we'd rather not be gnawing on cadmium in their spare time.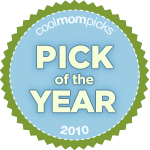 The new line, aptly called My First Green Toys, includes classic baby toys like a baby stacker cleverly designed to eliminate that center post, and building blocks billed as the world's first environmentally friendly building set. Well, we know that there are others that also do a fine job in respecting the environment, but point taken. They're all made in the US from recycled milk jugs, but you'd never know it from the beautifully vibrant colors.
They've also added a set of BPA-free baby bowls, plates and utensils which make the perfect inexpensive baby shower gift for your eco-ista friends.
It's a smart, safe way to get those organic strained peas into their babies' mouths and onto their fair trade, biodynamically grown hemp bibs. –Liz

Find the new eco-conscious baby toys and BPA-free baby dishes and utensils from Green Toys at shops like Kangarooboo.
Congratulations to Sara-Lynn Koch, lucky winner of the infant stacker and spoons from Green Toys!