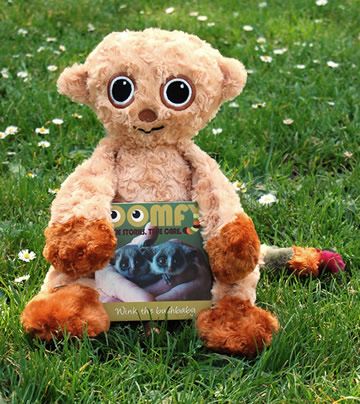 Thanks to a certain animated show, my daughter now ties her stuffed animals to chairs and then attempts to save them using only teamwork and a pom-pom hat. It's not my cup of tea, but I do like the idea of encouraging kids to help animals, which is why I like Oomfy.

This new business turns that cartoon altruism
into real world good. Every time you purchase a stuffed animal and its
companion book from Oomfy, a portion of the proceeds goes to support the
rescue, rehabilitation, and eventual release of displaced and orphaned
baby wild animals. The stuffed Oomfies are made from certified non-toxic
dyes and stuffed with organic cotton, and the board books explore the
real stories of the Oomfies, which were named for the sound that hungry
baby animals make.
(Tell me that doesn't grab your heart.)
What's really cool is that the Oomfies aren't
the usual bear-rabbit-puppy collection of critters. Instead, you can choose
from a hedgehog, a jackal, a bushbaby, a monkey, and an owl.
I love the
way this gift gives back in so many ways, from helping actual animals
to teaching children that they can be a part of the solution. Fwiends,
this is sewiously cool.~Delilah
Buy Oomfies at CMP fav Artebebe, and check out the Oomfy website to learn more about the animals you're helping.