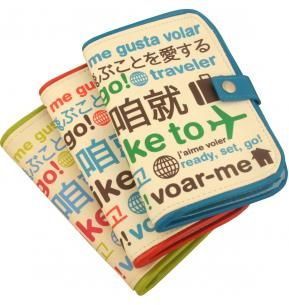 This Christmas, I'm dreaming of… white sand beaches, umbrella drinks, and menus in a language that is not my first. Oh, and a phalanx of babysitting-ready grandparents.
All of that seems slightly more within reach with this super cool passport holder.

Not only is this $15 passport holder from Flight 001
as cool anything, it's also got the potential to make flying more
convenient: check out the clear side pockets that keep your passport
photo easily viewable. And anything that makes airport security even a little bit easier is a huge plus in my book.
By
the way, if you're got travel-related holiday gifts on your
list–luggage scales, super-stylish-and-soft neck pillows, dopp kits,
cute contact lens cases–Flight 001 is your go-to. Seriously, when it
comes to travel, they have almost everything provided it's hip.
Well, except a pop-up cabana. But maybe I'll find that under the tree next year. -Lexi