If you work on Firefox–as about half of you do, judging from our site stats–you probably know that there are all sorts of interesting add-ons you can add to the browser to make things faster, easier, and more functional for you.
I've been poking around looking at apps for our sister site, Cool Mom Tech, and came across a really nifty one that's already saved me a ton of money as I shop online.

The PriceBlink add-on for Firefox
essentially price compares the baby doll or shearling boots or garden
hose you're looking at on a major retailer site, with the same item
everywhere on the web, all while auto-searching for coupons so you can
save even more. Amazing, right?
All you do is download the add-on, then shop as you do ordinarily. A
little black bar will pop up at top of your browser (it's not intrusive)
and say something like "you've found the lowest price on this item!" or
"You could save 10% on Amazon!" then offer up a drop-down menu listing the
prices and shipping charges from various retailers.
In fact, it's kind of crazy to see how many stores jack up prices. Ubisoft's Just Dance 2 for Wii is now $29.99 at Target, $39.99 at CompUSA with $6 shipping, and a whopping $54.99 at Fingerhut. Holy cow.
A second PriceBlink button points you to officially sanctioned sales and
promotions on the retailer's site, so no need to click over to one of
the discount code sites or turn to Mr. Google. For example, if I go to Best Buy
right now (a current CMT sponsor) I'm seeing 18 codes ranging from
weekly specials on product categories, to free shipping offers and discounts on particular items. And so far, they
do have the lowest price on every electronic I've clicked on, so that's
reassuring too.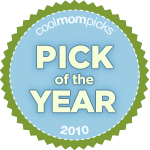 Now this app doesn't include the kinds of exclusive discounts you might see on this site (all the time!); it simply features the current sales from major e-tailers like Gap, Barnes & Noble, Amazon, Saks, Zappos and even Giggle.
Oh man, I love this app. –Liz
Find info about PriceBlink on their website, and download the Priceblink add-on for Firefox here. UPDATE: Priceblink is now available for Safari, Chrome, and now, IE!
And for more handy apps and money-saving technology, visit Cool Mom Tech and subscribe this month to enter to win a Dell Inspiron Duo Tablet valued at $529! Details here.