When my kids begged us to take them to Disney World, our first thought was the park of course. And last year when I ran the Disney Princess Half Marathon in early spring and was then invited to experience Disneyland, we did just that. But as we're not really a cruise-type family, a Disney cruise just never even entered our minds.
Recently, Disney invited us to be a part of their new Disney Dream inaugural cruise media event, however. With a four year-old son who'd sooner just ride the monorail back and forth from the hotel, and littler ones who are not cut out for long lines or the majority of the rides, my interest was piqued–maybe there's something to giving your kids the Disney experience, without some of the challenges of a theme park.
Bigger than the Disney Wonder and Disney Magic ships, the Disney Dream is jam packed full of all sorts of awesomeness in what I would describe as the ultimate customizable Disney experience. You could spend the entire time barely knowing you were on a Disney cruise (no joke), or you could soak in every second of the magic that they are famous for–it's really up to you.
So here's a quick run down on what you'll find if you're thinking this might be right for your family.
A stateroom with a view
With my littlest one at home with my mom, we packed our family of five into one of their Deluxe Family Cabins with a Verandah. It was tight, don't get me wrong, but it was nice to not have to get a second room, which is often the case for families of 5 or more. The master "area" is blocked off by a big thick curtain, which hides a couch/bed, murphy bed, and a bunk bed that drops from the ceiling.  (Of course my kids were so exhausted each night, they probably would have slept on the floor.)
The Verandah was nice, but you could probably get away with an inner room if you're trying to save a few bucks. Those rooms have a cool interactive porthole allows you to "see" what's going on outside without actually having a window.
Highlights: The "double headed" shower has one that's adjustable for cleaning off the kiddos with ease, and a large stationary one for the big people. Very smart.
Keeping kids busy – not hard at all
Each morning you'll get a newsletter outlining the day's activities and boy, there are a lot of them. Everything from parties on the pool deck to dance contests in the family-friendly night club. For those for whom group activities sounds like your idea of hell, there's also plenty of opportunities to just do absolutely nothing but hang by the pool or take advantage of the two water slides. There's even a fun Nemo splash area for the wee ones.
The set-up of the main pool deck is a bit awkward, with no actual lounging areas near the pool. You can sit around them, but it's not really made for lounging while your kids are splashing.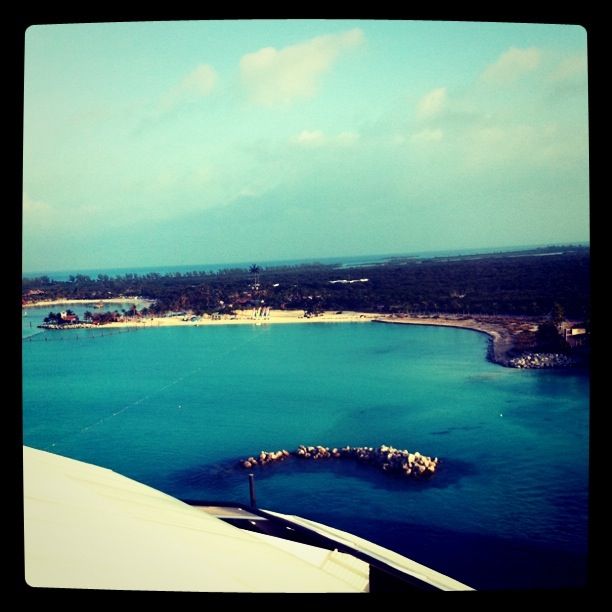 When you stop off at Disney's exclusive island Castaway Cay, you can also partake in a huge variety of island activities for an extra cost – snorkeling, swimming with sting rays, even water trikes, if that's your thing. Or just chill by the beach and get off the boat. Kids can play beach games to their heart's content at the secure kids club there, giving you a nice break if you need it.
The two family beaches are fairly small, which isn't an issue if your cruise isn't to capacity, but I'd imagine they could be more interesting with a full boat of families. If you send the kids off to the club for awhile, you can enjoy a small, quiet adults-only area and beach. Too bad they don't have buckets and sand toys for the kids though. (Big hint.) I'd suggest packing a couple in your suitcase, or be prepared to spend a few bucks on one when you get there.
Highlights: The big water slide about 20 yards off the beach. You have to swim out to enjoy one of the two slides and then come back around again. Tiring, but great fun!
The Kids Club, a.k.a Grownup Time!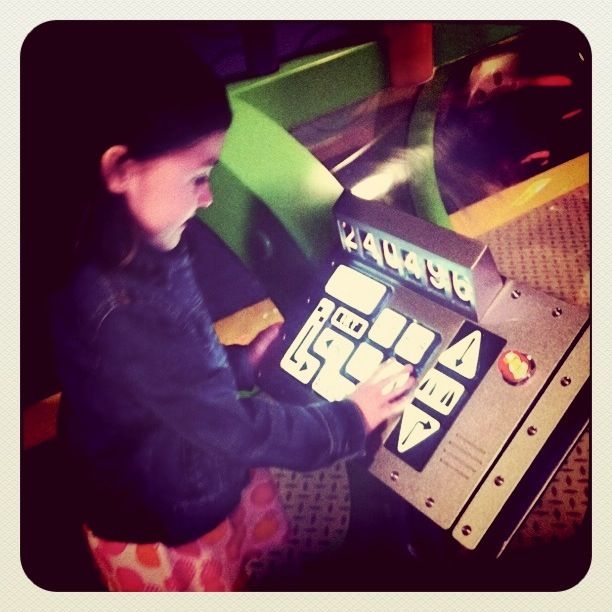 The Oceanneer's Club and Lab is an amazing, secure, and gigantic play area for kids 3-10. Kids can do all sorts of activities, like computer and video games to arts and crafts, even regular old "duck duck goose"–all under the supervision of friendly caretakers.
When you register your kids, they get an electronic, waterproof wrist band that they keep on for their entire stay that also helps the staff find them quickly. You beep them in when they arrive and then your password gets them out.
It's all indoors however, so unlike some kids club that do offer outdoor programming, you'll need to take your kids to the pools and other activities out the decks.
Unfortunately there's no in-room babysitting, though the club is open until 12AM (even 1AM on some nights) for older kids. The "It's a small world" nursery accommodates kids 3 months to 2 years for a small fee and has the same hours. There's no way my kids would last that long (nor would I want to deal with them the next day after such a long night) but my husband and I enjoyed some time alone after dinner and during the day and then just tag-teamed it later on in the evening.
Highlights: The cool handwashing system that's implemented upon arrival and when the kids leave is amazing. Just pop your arms into a cool machine and it does all the work for the kids, with a beep when all's well. Also: the impromptu visits from the Disney characters. My daughter enjoyed story time with Belle and just hanging out with Tinkerbell while she was in the club.
Food, food everywhere
If there's one thing we heard about cruises, it's the plentiful if generally mediocre food. There are certainly lots of very good options on the Disney Dream, however.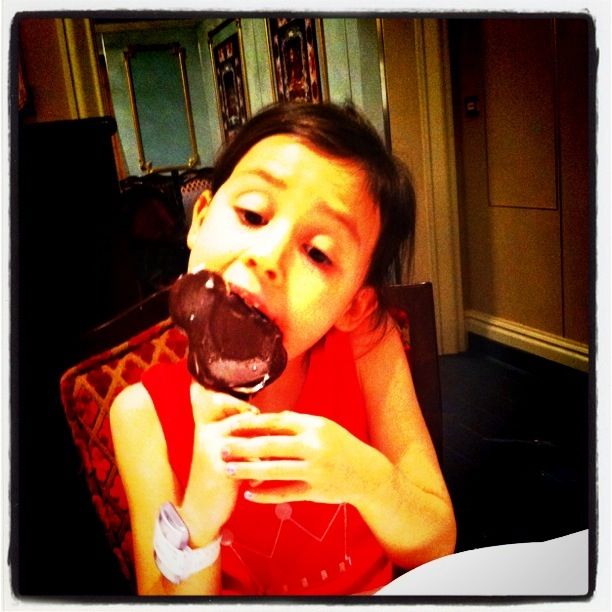 The restaurants, which offer gourmet quality meals, are super accommodating to kids, bringing out their appetizers and meals before yours and even cutting their food if you need an extra hand. If you enjoy the table service, which I highly recommend, just know that it can sometimes take awhile. We appreciated the formal service, but by the time we actually got to our main meals after enjoying a cold and warm appetizer, our kids were ready for dessert and bedtime.
My favorite meals were at the Cabanas, the buffet style restaurant, which offers almost every single possible breakfast food I could imagine. Prosciutto for breakfast? Sure why not!
Highlights: A diverse kids menu that's not short on veggies and healthy options, and appeals to picky kiddos and adventurous eaters. Also a wait staff that follows you to each of your nightly "assigned" restaurants, so that they get to know your family and their fantastic eating habits. Or lack thereof. Heh.
Just for Parents
Aside from the bazillion kids and family activities, you'll find plenty of stuff just for adults on the Disney Dream. The adults-only section of the boat features a pool, bar, and lounging area where no kiddos are allowed. It's decidedly quieter and you can bet
I headed straight there after I dropped my kids off.
There's also an 18+ area called The District, featuring a few types of bars, a lounge, and a hoppin' dance club. I challenged my husband to a Kinect for XBOX 360 ping pong match at the swanky sports bar. And lost. Horribly.
I have to admit I was a little disappointed with the slow and not-quite-friendly service from the bartenders here. While it's no big deal to get your butt off your lounger to grab a drink or snack, or chase someone down to get your check, when you've got limited time to yourself while the kids are in the club, you want a server with some pep in his step! Of course, the leisurely pace could be intentional in this area; surely there are people who want to be left alone to enjoy the solitude.

Highlights: Great live music performers in the lounge, and very reasonable drink costs with gratuities included. Pleasant surprise!
So…
It's hard to compare the cost of a Disney Dream cruise and a Disney vacation because they're two completely different experiences;  but even though the cruise works out (on average) to be more than a trip to Walt Disney World resorts, neither are what I would categorize as budget travel.
Having done both, however, I'd say the cruise was much more relaxing and waaaay less stressful. You know, more of what you might think a vacation should be.
And keeping in mind that we've never thought of ourselves as cruise people, my cynical husband checked off "definitely" on the evaluation sheet when asked if he'd take another Disney Cruise. I think that says it right there.
For the top 5 tech features of the Disney Dream Cruise, see our post on Cool Mom Tech.
Book your cruise on the Disney Dream on the Disney Cruise line website. Thanks so much to Disney for including Cool Mom Picks and Cool Mom Tech in this press event