If you've got a prolific little artist in your house like me, then you've probably exhausted all the creative ways to turn their artwork into gifts for the grandparents. Or maybe you're looking to start?
I'm so excited about these discoveries that I'm sure will make any grandmother swoon this Mother's Day.
I'm already in love with artist Andie Marie's embroidered hand prints that are featured in our Mother's Day Gift Guide, but this talented mama of 3 will also take your kids art and turn it into a needlework masterpiece (above; unfortunately no longer available). What a lovely way to preserve your kiddo's creations beyond just framing them.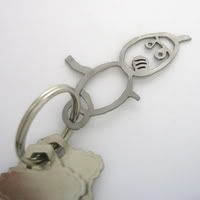 This past Christmas, my oldest drew a picture of all of my kids and jewelry artisan Mia van Beek whipped it into a cool customized keychain for my husband. You can send her a scan of your kid's masterpiece and she'll transform it into a beautiful necklace (in silver or gold). I can say first hand that the detail is amazing. You can also see what she did with a pair of baby footprints in our Mother's Day Gift Guide.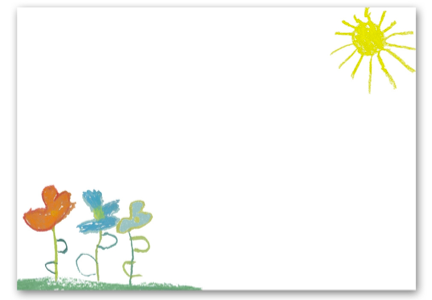 You can't go wrong with stationery, particularly when it features your kids' drawings. Our friends at Red Stamp will create custom kid-designed stationery including flat cards or folding cards, that goes beyond just the basic printing the art on a card. Think designer stationery by your kids. Pretty cool.
One more option that's great if you want something super affordable: Scan your kids' flat artwork and make a photo book out of it. Shutterfly does a great job with theirs and the prices start just around $10. It's also smart if you have multiple grandmas to delight next week–just make more copies!
For more cool personalized Mother's Day gifts, make sure to visit our Mother's Day Gift Guide. And be sure to order soon to make sure they arrive in time!