Pam Allyn knows books, and she knows boys; she also knows, as a literacy expert, that for a variety of reasons, our boys are more vulnerable to being left behind academically and succumbing to undesirable behaviors if they're not proficient readers.
That's why she started Books for Boys a decade ago, a literacy mentoring program for at-risk youth in NYC's foster care system.

Allyn believes that engaging boys in reading can
quite literally change their lives. And that goes for all of our
boys–hence her new book designed to assist parents and teachers with
all reluctant Y-chromosome readers from K-8,
Best Books for Boys
. The usual caveats apply; they may love books not on her list, they may hate something she suggests, but it's a start.
Allyn breaks it down so that there's truly something
for everyone. Plus there's guidance for parents on what questions or issues are ripe
for discussion relative to various titles, as well as "if you liked
this one, go read these, too" recommendations.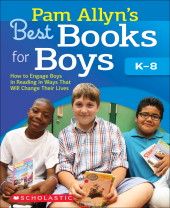 I
have to say, as a bookworm raising bookworms, I expected this book to
be a snooze; but I see titles my son has already devoured followed by
recommendations that are new to us, and old favorites from my childhood
are mixed in with more recent titles we have yet to explore. It's a
veritable Who's Who of Good Reading for the reluctant and voracious
reader alike, and yes–because I know you're wondering–I already caught my daughter cribbing from it,
too.
-Mir