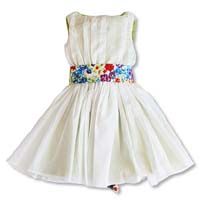 Any mom to a girl between the ages of 7 and 14 knows the dreaded Pit Of Despair when it comes to dressing them–it seems like most choices at that age fall into either the "too cutesy" or "way too mature" camp. So what's a mama to a discerning tween or early teen fashionista to do?

One new option: Shop online at
Sol Tween
.
This online boutique caters to sizes 8-14, with the same carefully
curated selection of designer pieces you normally find from boutique
brands that only come in smaller sizes. There's nothing too cutesy, absolutely
nothing skanky, and yes, they carry clothes for boys too.
Even
if you're not normally a boutique shopper, keep this one bookmarked if
you need a special occasion dress. I nearly wept for joy at all of the
trendy-but-tasteful options. -Mir