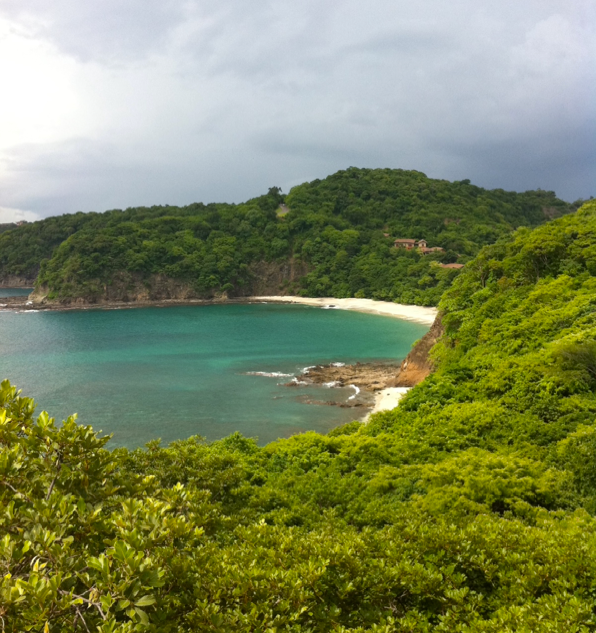 The idea of a family beach vacation usually conjures up images of crowded beaches, a muddy ocean, and food I will wish I hadn't eaten. Doesn't really sound like a vacation to me.
So when Four Seasons Costa Rica at Peninsula Papagayo invited Cool Mom Picks to check out their resort for families, you can bet my interest was piqued.
Costa Rica is one of those places that not only looks amazing but actually is, considering every single person I spoke to who had been
there had nothing but awesome things to say. Followed by, "I can't wait to go back and take my family." After spending a few
days there myself, I couldn't agree more. (Although I did enjoy taking my first ever vacation with just my husband since having kids.)
The Peninsula Papagayo is a fantastic undiscovered family-friendly destination that should definitely be on your radar and here's why.

Getting There
To explore the Peninsula, you'll
arrive at Daniel Oduber International Airport in Liberia, with direct
flights daily from Atlanta on Delta (it's a little over 3 hours long), and
connections through Houston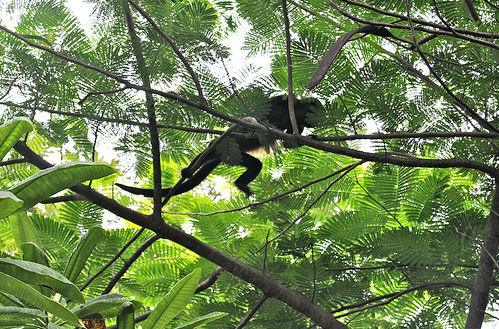 and Miami for other airlines. The benefit
for Four Seasons Costa Rica guests is the transfers are included: a friendly staff
will escort your family to the hotel on a 45-minute scenic drive so you can take in the lush
greenery, beautiful ocean, and wild life. Nothing like the prospect of
seeing monkeys to cheer up any weary little traveler.
While
the long travel day will certainly be forgotten once you set foot onto the
Four Seasons property, word has it that the new airport terminal and
runways will be completed in the late fall, which will make for more
direct flights and shorter wait times, particularly on the return home when
you're dealing with customs. Make sure you pack patience and a lot of
jelly beans if you're traveling with kids.
As you might guess,
the weather is hot. All the time. But with two distinct seasons – wet
and dry – you'll want to be sure to check the weather before you book
your stay. September and October generally rain non-stop, which, unless
you're a fish doesn't make for an awesome beach vacation.
Accommodations
The
Peninsula is largely undeveloped and undisturbed, with just a few
rental properties, plus the Four Seasons, which is surprisingly perfect when you want to enjoy the beauty of the area in its most natural
state.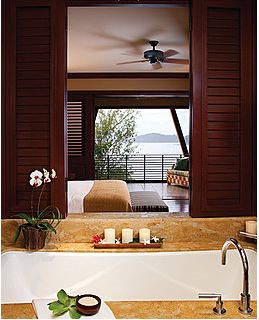 This isn't like some [Big American Hotel Chain] plopped down on a pristine beach. In fact The Four Seasons guest rooms and villas are built into the hills,
with the roofs carefully designed to look like animal shells to
maintain as natural a habitat for the indigenous flying creatures as possible. (And there are many!)
The
standard rooms (left), which probably offer the best option for families traveling with little ones, are hardly "standard"
as you might imagine. There's plenty of room for a family of four, including a
screened-in porch. Rooms can be adjoining if you're traveling with more
family members, and cribs and baby proofing are
complimentary should you need covered outlets or padded table corners. Additionally, these rooms are only a few steps from the
beach, the pool, and the restaurants, perfect if you're traveling with a stroller in tow.
If you're traveling with older kids
or are looking for more luxe accommodations, check out the villas, which are the
size of large apartments and feature everything from a private infinity
pool to a full kitchen and washer and dryer–though honestly, I'm not sure where you'd buy food to prepare. Scattered up the hill, they're walkable, though you'll probably enjoy making use of the free golf cart "shuttle" service. Just know the golf carts are not completely little kid-friendly, especially how fast some of them whip
around the curves.
Food & Drinks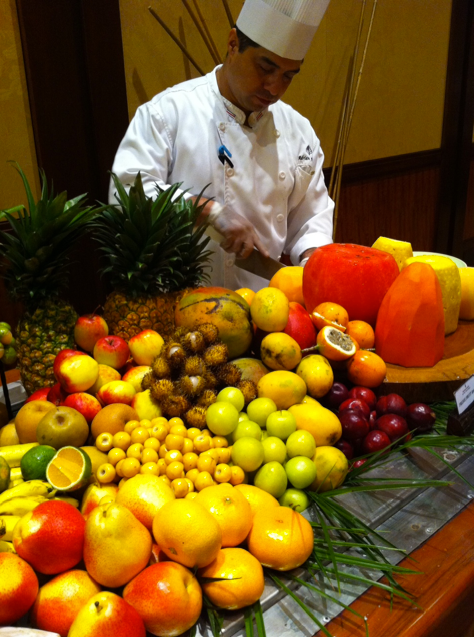 The
chefs at all three of the Four Seasons restaurants do an exquisite job of combining local
favorites with typical fare, so adventurous and picky eaters will be
nothing short of satisfied. Think tropical fruits, delicious (and world
famous) coffee, and seafood that tastes like nothing you've ever had.
Our
faves: a local deep fried beef "Patty" that we couldn't stop eating
while sipping a Guajito, a frozen specialty Mojito.
For a
special evening out, hire a sitter through the hotel's service one night
and take the 10-minute shuttle to the Caracol Steak House. Using mostly
local grown ingredients, some of which the Executive Chef grows right
on the property, the meal was one of the best I've eaten. Ever.
Keep
in mind that the finest ingredients prepared by some of the world's
most talented chefs don't come cheap. This is the Four Seasons, after all. But kids under 5 eat free, and
kids 6-12 save 50% on all choices from the adult menu–good if you've got a kid who's happy with a plate of buttered pasta and a banana.
Beaches
The
beauty of the Costa Rican coast is evident on its beaches, and whether you're looking
to laze around the pool or beach (me! me!), or keep active with water
sports or hiking, there's something for everyone without it ever feeling
touristy.
You can access two beautiful beaches right from the hotel. My husband enjoyed some of the complimentary
non-motorized sports like kayaking, paddle boarding, and snorkeling at Playa Virador,
all of which are closely monitored by staff. If you're looking to catch
some rays and let your kids play in the sand, grab a cabana at Playa
Blanca (left) and swim in the warm, crystal clear water. Kids will love chasing
hermit crabs or spotting tropical fish. And the large pool is only a
few steps from both.
One extra benefit for Four Seasons guests is
free entry to the Papagayo Beach Club, only a quick five-minute
complimentary shuttle drive from the hotel where you'll find beautiful
infinity pools, lap pools and kids pools; a sushi and sports bar; and a gorgeous
beach with more activities. Surfing, anyone?
Even though my kids are
happy to play on the same beach day after day, it's a nice change of
scenery for the adults, especially given the beaches aren't very big.
Activities
You're pretty secluded
on the Peninsula, which has its obvious benefits, but if you're looking
to hit the town for a hopping night life or shopping til you drop, you'll
probably be disappointed. In other words, there's no Carlos + Charlie's here.
Good thing for us, the live music at the bar
every night and the well-stocked hotel shops sufficed.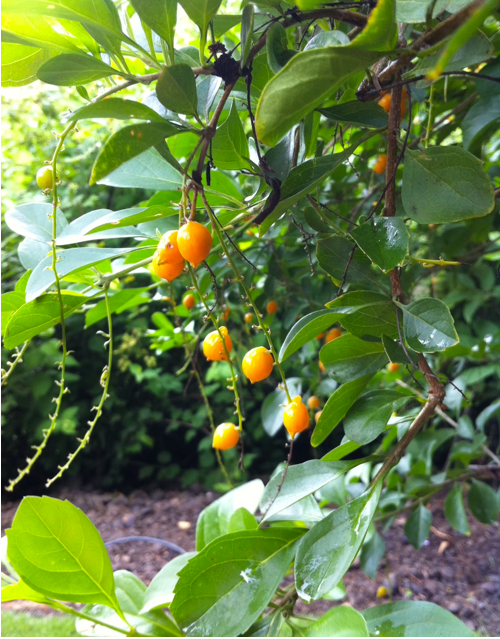 While my
husband geeked out over the vast, lush Audobon-certified golf course, which is
worth playing even if you're only a sometimes golfer, I was treated to a
little time in the spa, where you canrelax in a hot or cold pool (open to all guests free of charge) or get everything from a facial to a
massage. Prices are pretty competitive with what you'd
pay in a full-service spa in a large city.
The highlight of
our trip was the Witch's Rock Canopy tour
where you can fly over treetops and
waterfalls. The ziplinging bragging rights are definitely worth the short drive, extra cash, and rumbling in your stomach for those like me who are scared of heights.
If you're
interested in adding a charitable component to your trip, you can
also participate in their amazing Growing Together Volunteer program to help give back to the
surrounding community. We actually painted a school fence during our
visit, but they'll put together an experience appropriate to your family
– whether it's an actual outreach, to adopting a family in need, to
even just donating school supplies to a local student. When you're spending this kind of money on a Four Seasons resort, it does offset the liberal guilt just a little bit.
A note on
bugs: While we personally didn't have a huge issue with mosquitoes (surprising given that I'm usually a bug magnet) a couple of
guests we were with did. So pack some bug spray and don't go walking
through the lush brush late at night.
Kids Club

For
days when you (or your kids) want a little break (hello spa!), you can
send them to one of the two complimentary kids clubs. The Kids for All
Seasons is open daily for kids 4-12 and features a
playground, kids
pool, and indoor activity center stocked with crafts, toys, and
technology. This definitely comes in handy for the somewhat inconsistent weather patterns.
You can leave your kiddos there all
day or just for a few hours while you hit the fitness center or snooze
on the beach alone; staff will feed them a buffet lunch and even take
them outside for activities, so they're still getting a Costa Rican experience themselves.
For
kids 13 and up, the Tuanis Teen Center (left) is a meeting and hangout zone
with a pool table and video gaming system, plus basketball and tennis. A staff member is in charge of the center, but the kids aren't highly supervised. At this age however, they're off roaming
around on their own anyway.
Sooooo…
As you might guess,
a luxury vacation, especially at a Four Seasons resort, will never ever fall into the "budget vacation" category. If you're going to spend the money, I
definitely say you'll have the best time if your kids are four and over. That said, we saw plenty of
families with little bitty ones while we were there, all with smiles on
their faces. Yes, even the parents.
You do get what you pay for here–amazing food, exquisite service, and a destination that looks like it was taken right out of
photography book. Pura Vida!
If you're ready for a vacation of a lifetime that's on the path less traveled, I couldn't recommend it more. –Kristen

Book a fabulous Four
Seasons Costa Rica vacation through their website with all sorts of cool
deals popping up all the time, like the current one: Stay four nights get the 5th night free!
A huge
thanks to Four Seasons Costa Rica for including Cool Mom Picks on this
press trip and covering expenses. Photos copyright Kristen Chase, Emily Schuman, Four Seasons Costa Rica