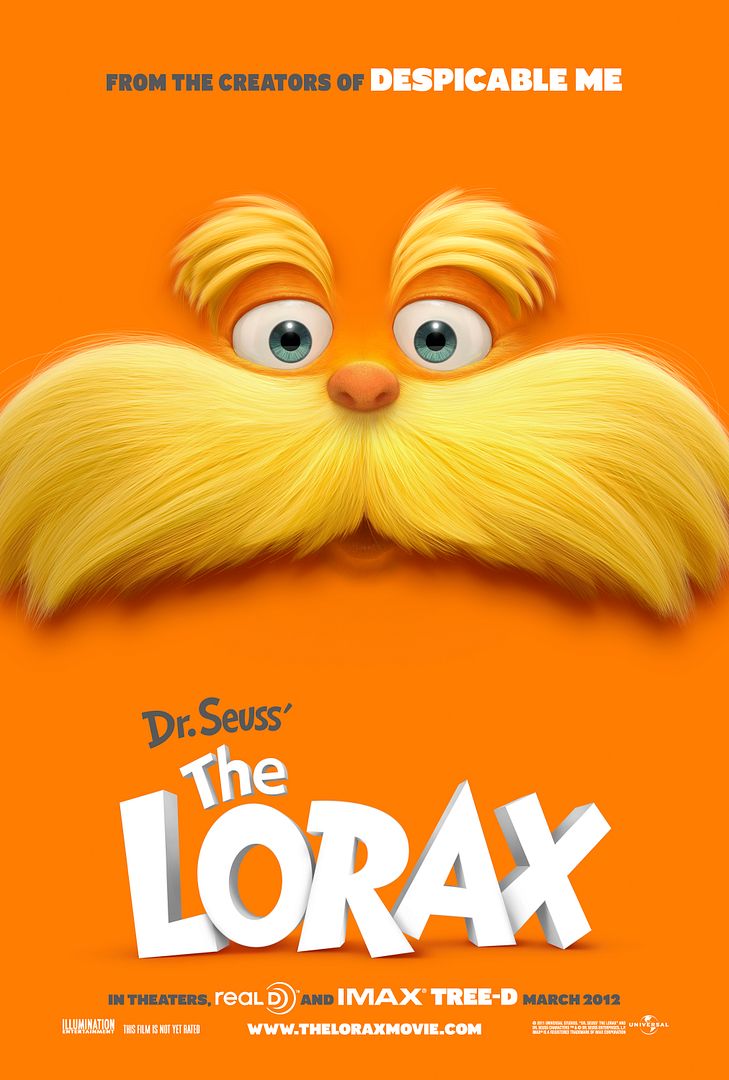 I am absolutely smitten with
The Lorax
, one of Dr. Seuss' most powerful characters. The book has such a strong environmental message that continues to resonate within me and so many of Dr. Seuss' fans, so I must admit that I had very high expectations for
The Lorax movie
, especially knowing the
Despicable Me
creators were behind the production.
Could it possibly get the message across in a new and entertaining way while remaining authentic to the original intent? I caught a screening of it, and my answer, with complete certainty, is yes.

The Lorax on film delivers in such a major way with
every visual detail thought out, from the gorgeous Truffulla trees to
the clever characters to the hummingbird fish. I think the reason it
succeeds is because Cinco Paul and Ken Daurio are a brilliant duo who
not only wrote the screenplay, they worked with Audrey Geisel through
the whole process (for you Seuss purists who might be worried after The Cat in the Hat remake). Add in animator Chris Renaud and you are talking
superb talent and vision.
As
for the story, the Once-ler, voiced brilliantly by Ed Helms, is the man
that wants to change the world with his vision of Thneeds for all. But
where did he come from? What does he look like? In order for the book to
work as a feature-length film, new characters have been introduced that
I think would make Dr. Seuss proud.
There is Ted (a nod to
Theodore Geisel himself) voiced by Zac Efron, and his love Audrey,
played by Taylor Swift. The hilarious Rob Riggle is stellar as the
greedy businessman O'Hare. And rounding the cast out is Ted's
kickass grandma, Betty White herself.
Betty White! How can that not be a winning role? And interestingly, this is her first animated feature.
The
premise of the film is simple: Ted will do anything to win over
Audrey's heart–and all she wants in the super plastic world destroyed
by the Once-ler is to see a real live tree.
It all comes to life
with big musical numbers, walking fish, and Danny Devito's sheer
perfection as the Lorax himself. But through it all, the "take care of
your planet" message is one that still shines through, and is sure to
resonate with the kids who see it.
I'd say the flick is perfect for kids ages four and up. There are no scary parts at all; I actually found the Once-ler more frightening and esoteric in the book. The movie really works to explain his story, making the message that much easier to grasp.
The musical numbers are really
awesome as well; they make you want to get up and dance, and also, recycle.
I must admit
that the 3D glasses did give me a bit of a headache–I know that
everyone is rushing to hop on the 3D train, but I didn't feel that this
movie really needed it and my kids felt the same way. I've always managed to
jump into Seuss's wild imagination in his books without any help, so if you're catching this at home on DVD (or spending $4 less a ticket to see it in the non-3D theater) you won't be missing a thing.
I
had the pleasure of sitting down with Betty White (and about nearly
fainted from the reality of it all). She is just so gracious, sweet, and
charming. I thanked her for her role as a feisty, go-getting grandma,
since our girls need all of the female empowerment messages they can
get. If it weren't for Granny, Ted would never know where to look for a
tree; her character truly holds the story together.
I
also got to chat with Ed Helms, who you probably know as Andy on The
Office. He utilizes a lot of the musical skills he finesses on The
Office each week in the nervy role of the man with the green gloves. I
kept thinking of the parallel between The Once-ler as a man who cuts
down trees, and Andy selling paper at Dunder-Mifflin. Ed's response:
"Yes. I like that. I had never thought of that, but I'm gonna take full
credit for it because I'm bringing it up in every interview after this.
Both the Once-ler and Andy Bernard are kind of not good but don't know
it."
(Don't worry Ed, you don't have to credit me. All yours.)
Ed
is also an essential part of the musical components of the film. He
explained, "the beginning of the movie, the first five minutes, I was
just completely stunned. I got John (Powell, the composer) to give me an
advance of the soundtrack, which has been pumping in my car. You see
me at a stop light and I'm singing, Everybody needs a thneed!"
So if you see him doing that…now you know why.
As
for the title character, Danny DeVito is just perfect as The Lorax. His
comic timing, grouchy demeanor, and wry wit are all present in the
mustached orange guy.
It's clear that Danny DeVito is a
man who likes a challenge. He agreed to do the voice over in several
languages for foreign markets, working with native speakers to read the
script in German, Russian, Italian, and Spanish. He described it as if
he's "climbing Mt. Everest, and you're at this certain place where it's a
flat spot and you can still see the peak up there. That was Russian. I
said, are you crazy?" And yet somehow, he got through it.
In all, The Lorax manages to send a wonderfully strong message without being preachy, and all along maintaining a sense
of humor. Dr. Seuss's message is as relevant today as it was in 1971 when the book was first published, because we can still do so much to
take care of our planet. You'll want to hightail it out of the movie theater and go plant a tree.
In short: Go see this movie. Even if you're in Russia. -Eva
Watch The Lorax Movie trailer here, and check out The Lorax Facebook page and learn about their partnership with the NEA's Read Across America Day. The movie hits theaters March 2nd, which would have been Dr. Seuss' 108th birthday.
Thank you to Universal Pictures for including Cool Mom Picks on this press junket, and covering some expenses.