Black History Month is rolling to a close, but it's never to late to share new learning resources with your kids. Along with some great books, movies and music picks that honor African American culture and history, I have recently come upon some more terrific books and media that help expose kids of any skin color to the diversity and wonder of the continent of Africa. –Christina

We have long owned a copy of the African folk tale
Why Mosquitoes Buzz in People's Ears
in our home, but I love hearing James Earl Jones narrating it on the
Scholastic Storybook Treasures DVD
version.
Like many folk tales, there is some sadness in this story, though it is still appropriate for young grade-schoolers. And with the read-along function, this DVD is a great way for early readers to get a little practice during movie time. Also included on this DVD are four other stories, including the touching South African story Not So Fast Songololo, and the interesting West African tale The Village of Round and Square Houses.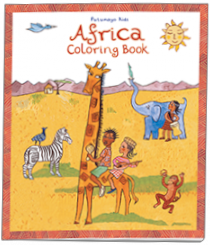 Putumayo Kids
has long been one of my favorite sources for global music, and their new
Africa Coloring Book
takes the playfulness and fun of their music and puts it into oversized illustrations of Africa's animals, people, instruments and even a big baobab tree. The large pictures are perfect for little hands to color, and my kids would love the page with ceremonial masks, along with a free page on which to design their own. I also like the labeled map of Africa which gives my kids a chance to learn where its many countries are located.
Barefoot Books' Monster Stories series
for early readers includes
The Mother of Monsters,
a story from South Africa. I love the spunky and fearless heroine Ntombi, though I also appreciate that she learns an important lesson in being so bold. The text has some tricky words, so this is a good one to read together. And though this is a monster story, the illustrations are so fun that it shouldn't bother anyone to hear at bedtime.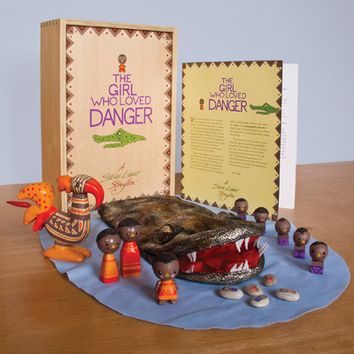 As a companion to Barefoot Books' story, I'd love to grab
The Girl Who Loved Danger play set
by Guidecraft. With the hand puppet and little hand-painted resin figurines, my kids would have a blast acting out various scenes, either from an actually African folk tale, or a story of their own making. (Currently available for preorder)
This CD is packaged beautifully in a hardcover book with gorgeous illustrations and translations. The lyrics vary from sweet declarations of a mother's love for her child, to more harsh realities, such as growing up as an orphan, but the music itself is consistently soothing for little babes. I love that the CD sounds totally different from anything I already own, and yet conveys perfectly the universal desire for our babies to just—please—go to sleep without crying.