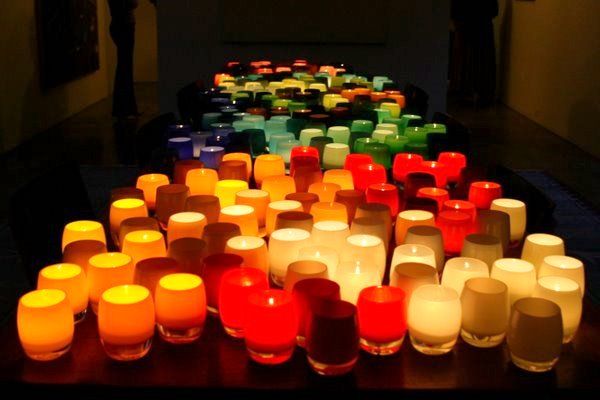 When is a candle not a candle?
When it becomes a vessel for love, hope, and even water. That's when.
If you love gifts that keep on giving, gives that give back, and gifts that are made by hand with love, then we'd like to introduce you to glassybaby.

glassybaby is the brainchild of Lee Rhodes, mother of three and survivor of a rare type of cancer who discovered glass and glassblowing while trying to find a few moments of serenity during her fight with cancer. After learning that the warm light emanating from hand-blown glass helped lift the fear that ruled her life, she educated herself on how to blow glass, and soon thereafter, glassybaby was born.
Each gorgeous votive candle is hand-made by the combined efforts of 4 (of their 70 +) glass-blowing artisans in their Seattle studio, and uses layers of colored glass to form a unique vessel that's dishwasher safe and nearly indestructible, even when dropped. They can be used to hold tea lights or flowers; they even make fantastic drinking vessels.
But best of all, the company is founded on giving back with their
Goodwill
program donating over $880,000 to a variety of charities dedicated to health, healing, and quality of life, especially those programs that will help provide safety and community to cancer victims and survivors.
If you want to give memories, goodwill, beauty, and calm this Mother's Day, we can't think of a more heartfelt and elegant way to do it than glassybaby.~Delilah
Find the beautiful glassybaby votives on their website. Today is the last day to get free ground shipping for Mother's Day delivery.