We're so excited to present this roundup of awesome personalized and custom gifts for dad int the first in our Father's Day Gift Guide Series brought to you by the wonderful folks at Dove Men+Care. Don't miss the super amazing giveaway info for one lucky reader, below!
Nothing makes for a special Father's Day for a special dad more than something he knows you had made just for him. (In other words, not a gift card.) Here, some ideas that range from thoughtful to Wow, you shouldn't have…but I'm so glad you did!
For the dad who's serious about his drinks, custom blended whisky lets you mix and match from seven blends, and top it off with a handmade personalized label. Or grab a gift card and he can create his very own.  ($ varies from Whiskey Blender)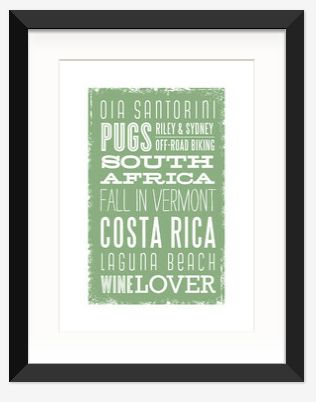 If Daddy's sentimental, customize this archival quality favorite things poster with some of his favorite things: Consider places he's traveled, funny phrases from the kids, or his favorite quotes. (archival prints $110+, non archival from $15)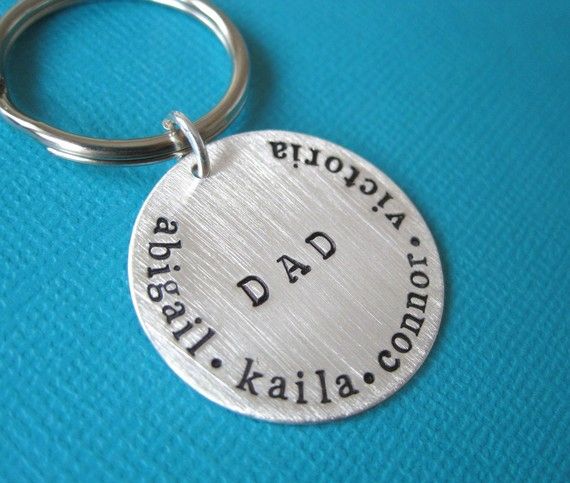 This personalized key chain is a thoughtful gift–at a fantastic price! Anchor it with "dad" or a monogram plus up to 30 characters around the perimeter. ($32 at hannah design, 10% off with code "COOLMOM10")
If you're going to go with a personalized mug, at least get creative. "Dad" works of course, but a funny nickname might be a lot cooler. ($19.95 at Red Envelope; Purchase through this link to get 20% off sitewide)
Is Daddy an investment banker? Score! The huge selection of bespoke dress shirts from Alexander West can be beautifully customized from fabrics down to the last detail, and you can even add a monogram. ($120+ at Alexander West, 15% off with code "PC380645")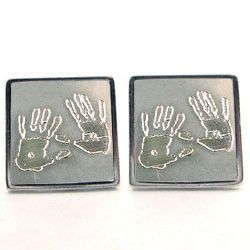 New dads–or not so new dads–will love these engraved handprint cufflinks made from your very own handprints. They're solid silver too, so they're meant to look great for years. ($195 from Kathy Lo)
Will a custom leather iPad sleeve or laptop case keep the kids' hands off Daddy's iPad? No guarantee–but it's still a great gift. Choose the leather style, color and more, then top it off with a beautiful engraved name or monogram. ($85+ from Chapin Leather, Free shipping in the continental U.S. with code "COOLDAD" through 6/1)
Whether or not he's a spa day kind of guy, if he bathes at all, this monogrammed men's bathrobe by Matouk is luxurious in Egyptian cotton terry. ($198 from Fine Linens with free shipping)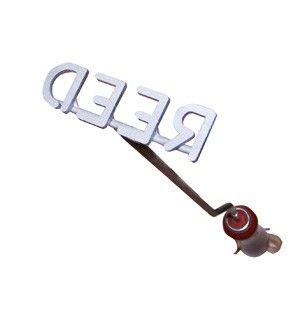 We'd imagine the king of the grill would be more happy with a personalized steak branding iron than a royal scepter.  Protection of one's meat is extremely primal, or so we're told. ($49.95 from Texas Irons)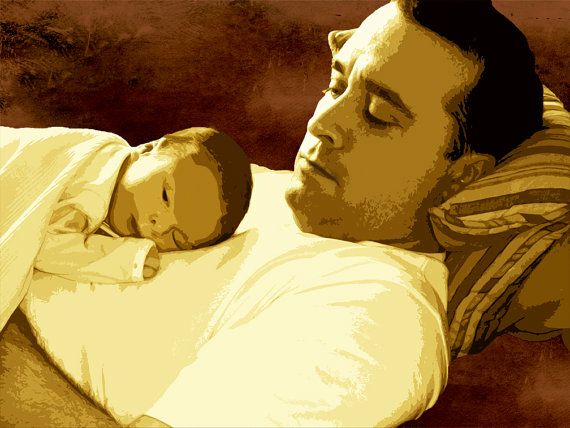 Your favorite photo of dad and the kids will be even more special when it's turned into a custom photo canvas, ready for hanging. ($89 at Studio Jones)

Thanks to our sponsor Dove Men+Care which celebrates men who are comfortable in their own skin, and make their families a priority. (We love that!)
Find out more about the excellent (and very nice smelling) Dove Men+Care products online at DoveMenCare.com, or follow them on Twitter or Facebook for great offers and info.
———————————————


EXTRA COOL: WIN IT! We're so excited to give away one Cool Mom Picks Father's Day Gift Basket valued at $500!  Updated: Congratulations to our winner Maria A!
1.Dozen necktie cookies from Bees Knees Creative  2.Gift card towards minimalist mens cap from Fairends 3. Custom silver key fob from Julian + Co 4. Recycled sailcloth dopp kit 5. SlantShack Jerky sampler 6. Man Vs Wild DVD, Season Six 7. Dove Men+Care collection including Clean Defense Body and Face Wash, Fresh Awake Body andFace Wash, and Aqua Impact Deodorant  8. Dad's Playbook: Wisdom for Fathers 9. Jawbox Jambone Smart Speaker