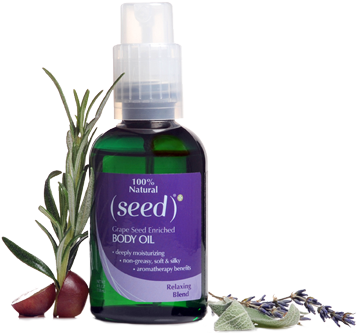 If you haven't discovered the joys of body oil, let me tell you why it's the bomb.
1. It's all-natural with no fillers.
2. It has tons of uses.
3. It comes in spray form!
And now I may have found a new favorite, should you be interested in taking the body oil plunge (so to speak).

I'm a little in love with (seed) products, and their 100% natural Body Oil is no exception. When you look at the list of ingredients, every single thing on there is an actual oil, chock-full of antioxidants and essential fatty acids. Oils like grapeseed, coconut, sunflower, olive, jojoba, and apricot, just to name a few.
The lovely scents come from carefully chosen essential oils, so there are no sneaky chemicals hiding behind the word "perfume." The Relaxing Blends is dominated by lavender and very soothing in a bath, while the Therapeutic Blends is a spicy, invigorating collaboration of ginger, clove, rosemary and mint. If I had to choose between them… well, I'd grab both and run.
If you've never used a body oil before and are concerned with looking like an oil slick, let me assure you that they soak in quickly and don't feel greasy. I especially love them on my legs when I'm going to wear a skirt, as they add a nice sheen that lasts all day–without staining or being too slippery. I sometimes add a few drops of the oils to the ends of my hair, especially after coloring. And they're just lovely when added to a bath with some epsom salts and a paperback romance.
Can lotion do all that? Nope. Neither can PAM. Although you would taste more fake-buttery.~Delilah