I need a birthday gift idea for my soon-to-be 5-year-old daughter. She has tons of Barbies, tons of clothes – she is a girly girl and loves all things to do with painting nails, wearing girly stuff. I feel like we have way too many toys and clothes. What else is new and fun for a 5-year-old girl? -Laurinda
I have two basic categories for kids who already have a lot of toys: consumable/craft gifts and games that inspire imagination, and then toys get them outside and active–and can hopefully be stored in the garage!
Oh, make that three categories if you include LEGO. Because as much as I hate to step on them, I adore LEGO for the creativity it unleashes in my kids. And, yes, all of these are great gifts for girlie girls too! Below, my suggestions. –Christina
CRAFTS AND GAMES:

For a great crafty gift, check out Kiwi Crate's brand new Celebration Shop with their Fairy Crate which comes beautifully packaged and is stuffed with enough fun to keep her busy for a while making her own wands, paper dolls, or butterfly wings.
eeBoo's Fairytale Spinner Game not only has the beautiful graphics that girlie girls love, it's simple enough that 5 year-olds can play without your help, which inspires great confidence and independence. In fact eeBoo does a great job with a lot of their toys including the charming Tea Party Game. (both from our affiliate Amazon or at indie toy stores everywhere.)
If your daughter will be going to kindergarten soon, Education.com's new WonderBox is filled with adorable, hands-on items that strengthen different skills she'll need for school. It's not entirely girlie, but she could certainly use a lot of pink and purple making that puppet!
If she likes art projects, I love Eye Can Art's single-topic kits because the projects are truly unique, and the canister keeps all the supplies so neatly together when you aren't using them. They'll definitely require your supervision though.
OUTDOOR GIFTS: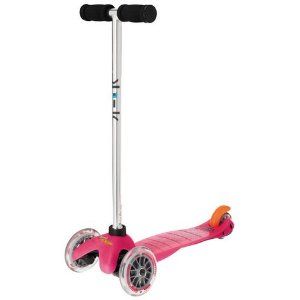 One of my all-time favorite outdoor toys is the Mini Kick Scooter which is bound to come in one of her favorite colors (i.e. pink or purple.) If she is tall, or very adept at scooter-riding, try out the Maxi Kick. You can accessorize your scooters with streamers, a cute Scooter buddy or a little mini handbag in which to store any treasures she finds.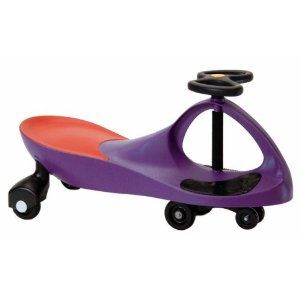 Another great ride is the Plasma Car which comes in more "feminine" colors should that be a deal-breaker. It is so much fun to ride–and yes, grown ups can hop on too. My sister even had hers inside the house and it was very easy on her floors.
With beach days upon us, grab some new sand toys and package them up into a gift. We like Haba's fun line of sand toys that includes an ice-cream scoop toy and cool water bucket.
If you want ideas for friends and relatives who don't want to spend as much as say, a scooter, think about a jump rope or a hula hoop, both of which girls love and also get them moving. We love the Green Toys jump rope made from recycled milk jugs so much it was in one of our holiday gift guides in the under $15 category. It even comes in girlie colors. (Available at Kangarooboo)
LEGO GIFTS: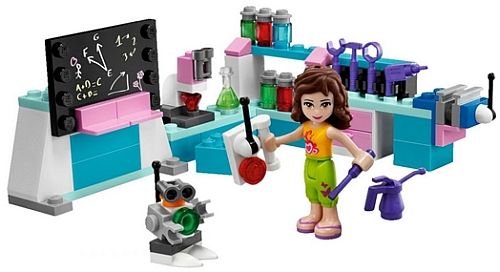 For girls who are new to the LEGO brand, LEGO Friends has some very cute sets that encourage open-ended play and hopefully will get her as obsessed with this wonderful toy as my kids are. (You might also read our post about them which delves into the pros and cons pretty specifically.)
The smaller kits, like Olivia's Invention Workshop are recommended starting at age 5 and are ideal for the youngest builders. Grab her a bin of bricks to go with it, and encourage her to free-build too. It's a perfect combo.
You'll find lots of other gift ideas in our Toys category.