As someone who hates mushy fruit with a passion, I wholeheartedly embraced the recent popularity of the pouch. Finally, my kids can eat applesauce without me locking myself in the bathroom. (Because it's all about me, right?)
But as it turns out, pouches can hold more than fruit. For example, oatmeal and yogurt. How very space-age.
[don't miss a great super great giveaway after the jump! That is, if your kids like yummy foods.]

My only problem with these two new lines by our pals at Plum Organics is that my kids ate them so quickly, that I barely managed to save the boxes for this review.
The
Organic Morning Mashups in Maple Banana
were such a big hit that my kids have asked for one at breakfast every day for the last week. Our everyday breakfast is straight up oatmeal with frozen raspberries and a dab of honey, so I'm guessing the 13g of sugar from organic bananas, apples, and maple syrup, added a sweet edge that made the pouches seem more like a treat. Still, with only organic, whole ingredients and the addition of milled oats and quinoa, it's not a bad choice for breakfast on the go. I would buy a ton of these for vacations, when we want life to be easier and mess to be nonexistent while renting a condo–or to save some money on overpriced hotel breakfast buffets where the kids eat one pancake.
And if they had to eat something in the car, the Mashups would also be a great option. The Oatmeal Raisin flavor looks right up their alley, too.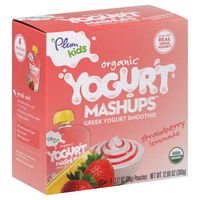 The Organic Yogurt Mashups were also adored. They sucked down the
Cherry Vanilla pouches
happily in seconds. With organic Greek yogurt and 14g of sugar mostly from organic cane syrup, again, these would be fantastic as a vacation treat, especially since they don't have to be refrigerated. Compared to a $7 ice cream at Disney, they start to look mighty good. (Although I still prefer the oatmeal sweetened with maple syrup instead of cane syrup.)
Even this persnicketty mom will put these new products on on our vacation shopping list. All-natural ingredients, grains and yogurt, and, best of all, utter tidiness of use make the new products from Plum Organics another delicious weapon in my arsenal against squishy mess. Thank heavens for space-age pouches.~Delilah
Congratulations to Kathleen B! she won a prize pack from Plum Organics.