My family's trip to Azul Beach Hotel in Cancun a few years ago was one of our all-time favorite vacations. And that's saying a lot, considering we traveled with our (then) three kids under the age of 4, including a 3-month old.
Since our first visit, this boutique family hotel has undergone a huge multimillion dollar renovation, and I was thrilled to be invited back to experience it firsthand. And based on what I saw, you'll want to be sure to add Azul Beach to the top of your list for your next family vacation.
Snazzy New Accommodations
The biggest changes to the Azul Beach Hotel are definitely in the rooms, with a whole side of the resort completely updated with a variety of fabulous suites–many of which are (prepare to swoon) swim-up suites. Yup, that means what you think it means: you can pop outside your porch and take a dip in the heated pool, or even enjoy it alone or with your partner during naptime (or even after bedtime, ooh la la). Heaven! And don't worry, the locked gates offer extra safety measures if you've got kiddos with you.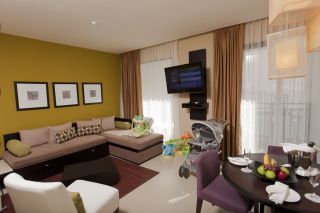 Inside, you'll find luxe accommodations and plenty of room for even a family of six like mine (if your youngest is under 2). But a family of five with older kids can fit and sleep comfortably, with a huge master suite that actually closes off with sliding doors to the living area. Plus a sectional couch doubles as two twin beds, and there's a trundle too. This is a big deal for larger families who are often relegated to getting two rooms. The Jacuzzi tub is pretty magical as well, as is the roomy shower, both of which are more than enough for a small family to stay sand-free and sparkle-clean, and plenty spacious for a big family as well.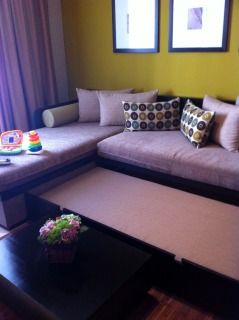 While it is a bit of a hike to some of the new suites from the lobby; the beach, pool, and restaurants are only a few steps away, easily accessed even with a stroller, thanks to elevators–a rarity in most resorts like this.
You may want to make sure that you're situated farther away from the restaurants and bars if you have kiddos, since Azul Beach is host to a lot of destination weddings. However, the resort is very family-friendly, and for the most part, the nightlife dies down around 10 PM at the latest.
New Gourmet Restaurants
Azul Beach Hotel is a Gourmet Inclusive Resort, which means that the hotel's attention to food is amazing. Since my first visit, they've added two new restaurants, Latino and Roma (pictured), offering Latin and Italian cuisine (surprise!). Overall, I was pretty impressed with the food. While there are a few dishes that don't seem as up to par as the others, my guess is that even your pickiest foodie will be pleased. Azul has also redesigned their Asian restaurant, Tainan, which now features a cool sushi bar with a moat where the food floats around until you snag it. Enjoy this one on a night without the kiddos.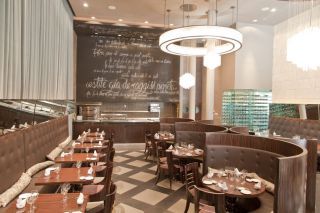 One thing I dearly love about this hotel's approach to food is that they really do cater to families, and are super aware that eating with kids is always a challenge. While some families prefer the buffet option (which is only offered at breakfast), the service staff also does a wonderful job of accommodating kids.
Tables are now already equipped with booster seats–not the regular grubby restaurant kind, but ones you'd have in your house. Plus servers will always bring out crayons, and will even serve hungry kids their food first. They even have jarred baby food available–all included in the price. All of this really does such an amazing job of making meals with kids much more pleasant for the parents.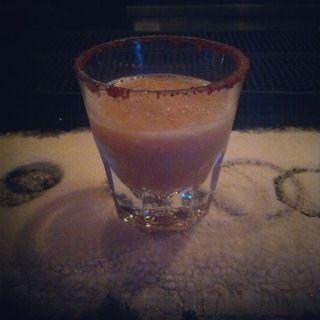 One big bonus: all alcohol is included too, including top-shelf liquors. You will have to pay for specialty wines, but once you have a their signature Mosquito–a delicious blend of tequila and tamarind juice–you won't even think about wine.
Don't even get me started on the new Sangria bar at Roma Restaurant. Holy moly.
Luxe New Spa (Kid-Friendly, Too)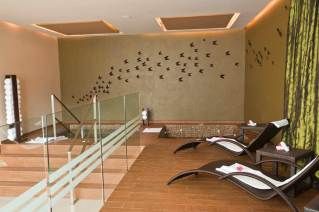 The new Vassa spa is a huge addition to this resort, allowing parents AND kids (yes, kids!) to enjoy a variety of treatments priced pretty comparatively to what you'd spend at a high-end spa in an urban setting. In addition to the lovely new treatment rooms, there's a relaxation area that features a jacuzzi and warm pool, as well as lounge chairs–a nice change to the sunny pool and beach if you feel the need to give yourself a break. I was very impressed with the facial I received, and I will say that after being in the sun for a few days, I'm pretty sure my skin appreciated it too.
Inside the Vassa Spa, they've added a Perfectly Pink Spa just for little girls where they can experience everything from a mani-pedi and even a kid-friendly massage by estheticians dressed in pink coats and pink wigs. While I'm not completely into the little-girl spa thing personally, I can see how it could be a very sweet mom-and-daughter treat. Especially if yours are a bit older. And if you've got a princess-loving daughter, well, they'll be in heaven, trust me.
For me, the beautiful beach complete with complimentary beach-butler service is relaxing enough; but the new spa allows you a little extra pampering on your otherwise chaotic family vacation. And it's wonderful for families attending a wedding on the hotel premises who need a little extra primping or attention before the big event.
Superfun New Kids Club
One of our favorite parts of Azul Beach was the Kids Club, which has been majorly revamped. The new Azulitos Play House, created in partnership with Fisher Price and My Gym, includes a large indoor play area stocked full of toys, a small play gym, and mats that can be utilized by kids as young as two with an adult supervising. As much as my little ones love the beach, sometimes it's nice to take a break from the heat of the Mexico sun and indulge in a little air-conditioning.
If you've got a 4- to 12-year-old, they can visit the Kids Club without an adult, allowing you to enjoy a little free time while your kids do everything from arts and crafts and sports, to cooking, dancing, and of course, playing in the pool and on the beach as part of the new Mini Mayans program. All of it helps immerse your kids in the Mayan culture and the activities really do feel educational as they are fun. In other words, no sitting in front a computer or video game monitor all day here.
Extras Just for Families
While last visit we enjoyed the Baby Concierge service–which meant our room came already equipped with a crib, stroller, baby bath, bottle warmer, and baby monitor–you can now also take advantage of the Fisher Price toy-lending program during your stay. It's a wonderful relief not to have to worry about packing anything other than clothes and diapers for your littles. And if you do forget diapers, you can purchase them at the hotel gift shop.
You should also definitely take advantage of the very reasonable babysitting service, which costs $15/hour for two kids. Have the movie service delivered, which includes a movie plus popcorn, order in-room service for them (also included), and then go have dinner and a drink at the Agavero Tequila Bar on your own. It is a vacation, after all.
I admit that I was already a fan of Azul Beach Hotel prior to their huge renovation, but the improvements, and particularly the rooms, make this a superfab resort that I will want to return to with my entire family, over and over again. -Kristen
For more information about how to book a vacation at Azul Beach Hotel or any Karisma resort, check their website. And make sure to check out my first Azul Beach Hotel review, with more specifics about the other amenities, beach, and more. Also, we suggest following Azul on Facebook or Twitter, as you'll frequently find amazing deals, especially for families. And if you have questions, feel free to leave them in the comments. 
Our thanks to Karisma for covering my transportation, hotel, and expenses during my visit.