If you knew me in person, then you'd know by the tattoo on my inner wrist that I'm a little obsessed with braille. (It's my kids' initials, if you're curious).
Now, I've seen some cool braille jewelry before, but these gorgeous, subtle pieces definitely caught my eye.
LeighLuna creates beautiful
custom braille necklaces
–wonderful if you're visually impaired of course, but if not, it's a wonderful, subtle way to keep your kids close to your heart (without emblazoning their names across your chest in Comic Sans which can be read from 6 blocks away, for instance). Each brass pendant is created by hand and can feature up to 11 letters of your choice.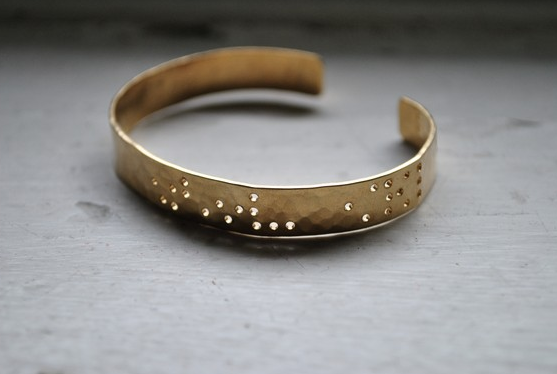 If you want to wear your kid's name or initials on your wrist like me, though without the tattoo needles or permanent commitment, check out these lovely
custom braille cuffs
. I also love the
engraved bracelets
(pictured), which are a classy way to wear your favorite inspirational messages, like "Take Time" or "Live, Laugh, Love." Understatement never goes out of style.
And definitely tuck the
Love Braille Dogtags
away for the upcoming holiday gift season. They'd make a unique gift for a dad or grandfather and can clipped onto a keychain or even worn as a necklace, if that's their style.
-Kristen