When I survey my children's toys, I have two thoughts:
1. I should have purchased stock in Duracell.
2. How can one household amass so much plastic?
So I was thrilled to come across a world of handmade toys, interactive ideas, and three oh-so-beautiful words: "no plastic parts." If you're seriously nostalgic for simpler toys like I am, you're going to adore the online toy store Once Upon a Treehouse.
Once Upon a Treehouse is the charming brainchild of two mamas, Lori and Tara, who are sisters. The background story of their business is as sweet as their creations. Lori and Tara's beloved grandfather, Poppy, built a beautiful wooden dollhouse for them when they were young. When they became mothers, Lori and Tara were unable to find anything for their own kids that even resembled their favorite childhood dollhouse. So they decided to create a line of high-quality, beautifully handcrafted dollhouses and doll accessories to inspire fun and fanciful adventures for today's battery-dependent children.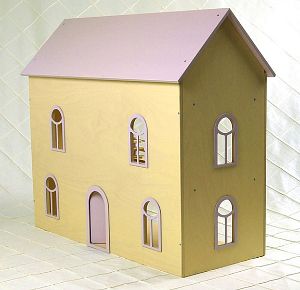 The simple, durable, and lovely houses are constructed of solid maple, and the dolls' faces are hand-painted, so no two dolls are exactly alike. And through the company's "Fairy DollMother" program, every time a doll is purchased, Once Upon a Treehouse donates a doll (through various charitable organizations) to a child in need. Now that's magic.
Besides their gorgeous line of toys, Once Upon a Treehouse's website offers a craft workshop, simple and delicious kid-friendly recipes, printables like custom wallpaper for your dollhouse. Plus: wall art! (Dollhouse wall art is all the rage–who knew?) I'm in love…and I'm kinda ready to dump my daughter's tacky all-plastic dollhouse in the trash. But don't tell her…at least not until I can get my hands on some treasures from Once Upon a Treehouse. –Shari
Visit Once Upon a Treehouse for dolls, dollhouses, doll accessories and awesomely interactive ideas, and the opportunity to be someone's Fairy DollMother.