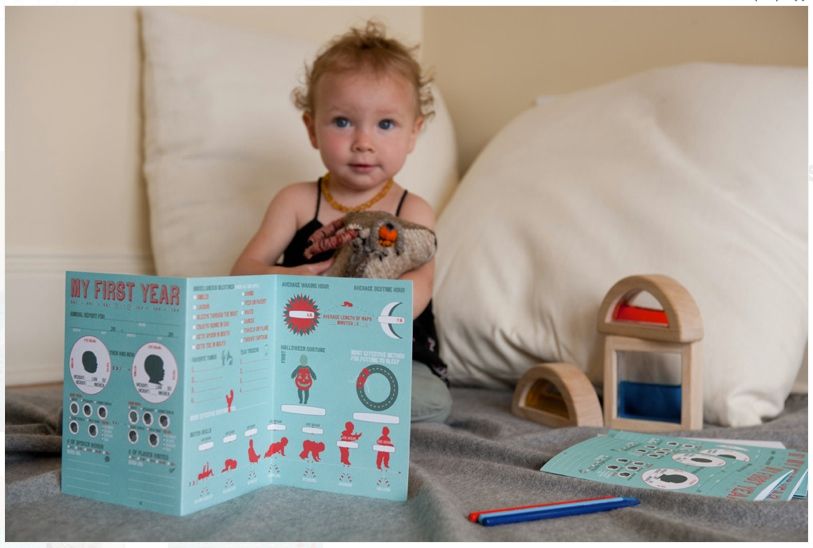 As a mom of three, I had the best intentions of chronicling my children's milestones–and the worst follow-through. I know I'm not alone here.
If you're expecting Baby #2 or #3 now, you're in luck. I found a new approach to documenting all those sweet milestones that I think you're really going to appreciate.

If I'd had one of the new and wonderful My First Year Cards or My First Year Posters from Strange Birdy Studios, I think I would have been set. With space to fill in baby's key milestones over the first year, they're simple to keep up with and make a perfect keepsake.
There are more than 30 spaces to fill in with facts about baby's first words, first foods, first trips, and more: a whole baby book rolled into one easy-to-complete work of art. The cards and the posters are gorgeous and printed on incredibly lovely paper–making them perfect for framing. Which is ideal for proving to those second and third kiddos that you do, in fact, care about them. Whew.
And that's why I think I'd better give one to every mom I know who is about to have her second, third or fourth baby. Because, hey, first babies? They already get everything. It's when the next ones come that we mamas need a little–okay, a lot–more help. Second babies, you can thank me later. –Stephanie S.
Find the new My First Year Cards online from Strange Birdy Studios