Finding modern kids' furniture has gotten so much easier in recent years (hooray!) that the only downside is having to choose what you want. And what you have room for. And what's worth the investment. Hopefully these picks of 2012 will help.
Kristen: A desk that's also a playhouse? That's exactly what the Deskhouse from Cool Kids' Company is (at top). There's just too much awesome about this concept. Plus, it's perfect for families with lots of kids like mine.
They're tables! or ottomans! or both! Either way, the Quinze and Milan Jellyfish Ottomans are brilliant, and remind me once again that you don't necessarily need to compromise your style and room design when you have kids. Liz owns two and now I think I need them too.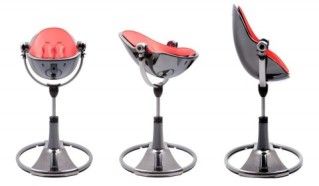 Liz: My kids are well out of the high chair stage, but if they weren't, I'd totally be coveting Bloom's Fresco Chrome High Chair. It's perfect right from the newborn stage, all the way up to the time when your 70 pound big kid is sitting up at the breakfast bar, eating the pancakes he made himself. Seriously.
Bedrails are a necessity for toddlers and kids in bunk beds, so I love this Alpha Bookshelf Bedrail which doubles as…right. A bookshelf. Eco friendly, US-made, all from the minds of California Etsy artisan Jessica Cohen. Now that's my kind of kids' furniture.

For more great kids' furniture, visit our archives!