We can't think of a nicer way to end our Editors Best of 2012 than with our very favorite kids' books of the year. Especially because they will still be relevant in 2013 and beyond–unlike handbags or even tech, books never go out of style. Here, three of our editors present their very favorite books for children that we discovered this past year. Enjoy!
Liz
Baby Lit Books by Jennifer Adams and Alison Oliver
I can't help it. After suffering through the same board books for months on end when my kids were little (you know the ones!) it's so nice to find a few that parents won't mind reading over and over. These reinterpretations of classic literature like Jane Eyre and Pride and Prejudice teach basic skills like numbers and colors and are great fun…and the perfect shower gift.
Sofia's Dream by Land Wilson
I am so happy I discovered Little Pickle Press this year, a small publisher with really lovely titles incorporating the values we all want our kids to have. The beautiful Sofia's Dream, about seeing the earth from the moon's perspective and learning to take good care of it is everything a picture book should be. Plus every purchase gives back to children who need it.
Every Little Thing by Bob Marley, Cedella Marley
If Bob Marley's classic lyrics from Three Little Birds weren't just made to be adapted as a children's book, then I don't know what song is. Marley's daughter does a wonderful job turning this into a feel-good story that will suck kids right in, thanks in part to Vanessa Brantley-Newton's upbeat illustrations.
What Does It Mean to Be Present? by Rana DiOrio
Also from Little Pickle Press, this book will open your own eyes too, about ways to live in the moment, seize opportunities, and be the best people we can be. It's all done in a totally non-preachy, non-cloying way, and even my 5-year-old loves when we pull this one off the shelves at night.
Kristen
Children's Personalized Books by Chronicle
I know you're not supposed to judge a book by its cover, but it's hard not to when publisher Chronicle Books makes some of the prettiest ones out there. Especially now that you can get a few of them personalized with your kids' names right in the title, and incorporated throughout the story too. Here's hoping they beef up their girls' offerings soon because so far the so-called boys' titles are terrific.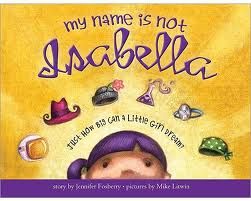 My Name Is Not Isabella by Jennifer Fosberry
I snatched My Name Is Not Isabella up the minute we featured it and it's become one of our all-time favorite bedtime books. I love how my kids are learning about famous women in our history in a way that's inspiring for both my girls and my son.
The LEGO Adventure Book by Megan H. Rothrock
Since the LEGO Adventure book arrived at our house, my kids have not been able to put it down. I just love all the tutorials and various designs that have really inspired my oldest to branch out beyond following the directions that come in the box. And if finding it in the bathroom on a regular basis isn't enough proof that it's a favorite, I'm not sure what is.
Christina
Arlo Needs Glasses by Barney Saltzberg
Any trip to a doctor can be scary for kids, so I love books that help demystify the trip a bit, as is in Arlo Needs Glasses. With a sweet, lovable–and nearsighted–dog as the main character, my kids got a sneak peak at what it's like to visit the eye doctor. This book has such great interactive features, like pop-up eye exam equipment and adorable paper eyeglasses, that now my kids wish they needed to wear glasses like Arlo!
The Little Book of Hindu Deities by Sanjay Patel
My tween loves to read about ancient Greek gods and goddesses, so I thought she might enjoy learning a bit about another culture and religion with The Little Book of Hindu Deities. Along with the explanations of each deity and its manifestations, she loves the bright, colorful, cartoony illustrations that keep this comprehensive guide from feeling too scholarly.
Yumi and Aoki by Annelore Parot 
Though both Yumi and Aoki are board books written for young children, my kawaii-loving tweens adore both of these stories that follow "a day in the life" of two Kokeshi, or Japanese wooden dolls. With tons of interesting Japanese cultural references, fun little flaps and fold-outs, and super-cute illustrations, it's no wonder they are smitten by these two characters.
Find more of our favorite books for kids in our archives!