We love it when princesses don't need saving. But we're also big on seeing what happens when the genders are reversed in classic fairy tales, turning princesses into dames in shining armor. So if you love empowered women, we think you'll fall for these gorgeous illustrations, too.
I discovered the work of Yudi Chen on tumblr and had to find out more. As it turns out, she's an illustration student at the Rhode Island School of Design, and her Gender-Reversed Fairy Tales series is available on Society 6 in the form of prints, framed prints, or stretched canvas.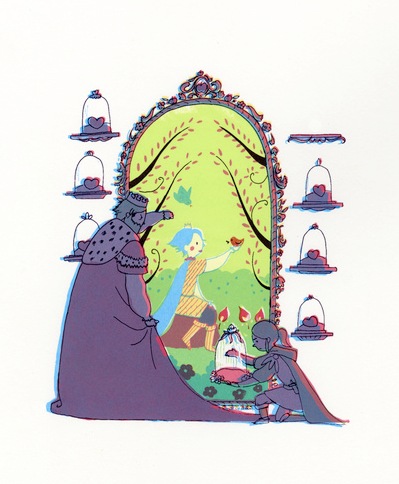 I love the way the colors include both pastels and brights, so you're not limited to the pink or light blue palette that dominates so many of the "regular" princess artwork when decorating. And I especially love the play of good and bad and the willingness to embrace tragedy, as seen in the Little Merman print and in the focus of the Huntswoman in Snow White.
The combination of sweetness, darkness, and femininity is just so honest and refreshing. And, yeah, beautiful. –Delilah
Find prints of Yudi Chen's Gender Reversed Fairy Tales at Society 6. And if you'd like to know more about Yudi's process, you can check out her blog, where she shows sketches for several of the prints.