I will never turn down a dozen roses, although I also have a soft spot for the handful of dandelions my son proudly presents to me as a token of his affection. But now that I've seen the floral creations my kids can make from our favorite Kiwi Crate, I think I've found my bouquet of choice for Mother's Day.
Kiwi Crate's Felt Flowers crafting kit is a very sweet way for kids to create a Mother's Day gift that will occupy a place of honor on the dining room table long after the holiday has passed.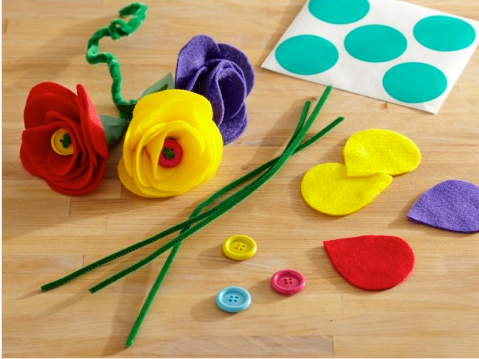 This mini-crate includes everything needed to make three pretty felt flowers that sit in a cute little decorated cardboard tube "vase". At under $13, it's a bargain compared to the cost of cut flowers, plus these will last a whole lot longer. Perfect for all those moms and grandmoms who deserve a little something pretty for Mother's Day, something as lasting and lovely as they are. –Christina
Grab the Felt Flowers mini crate from Kiwi Crate now to have in time for Mother's Day. Spend over $50 and get free shipping with code SPRINGBREAK.