Cinco de Mayo is tomorrow, which means you still have time to get ready to throw a little fiesta in celebration of Mexican heritage and pride (and yummy food).
So along with getting the ingredients for a Mexican dinner–including one of our delicious guacamole recipes–we've got the party decor and crafts you'll need to really get the party started. (We're also in favor of celebrating Cinco de Mayo all Mayo long. How about you?) –Christina
This entire printable party from happythought is muy fantastico and muy inexpensive at only $5. Includes colorful cupcake wrappers, lime-and-chili garlands, coloring pages, and even little sombreros and ponchos to decorate your libations. So cute! And how awesome is the printable Luche Libre mask above, also included in the happythought party printable set?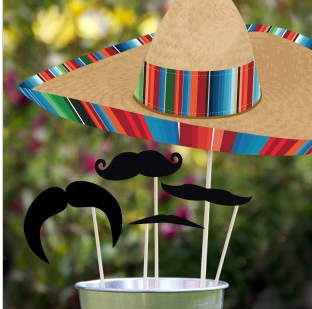 Some fun photo props get even the camera shy into the frame at our parties. Paper and Cake's playful Cinco de Mayo Photo Booth Props will make for some hilarious candids of the kids and the grownups.
Turn those leftover plastic Easter eggs into colorful mini maracas with some popcorn kernels, a plastic spoon, white tape, and your child's artistic inspiration. This would be a great craft project to do with the kids while the adults mingle.
So easy, yet so perfect, these little Sombrero Cookies would have plenty of eager helpers in my kitchen. Even the smallest fingers can help position the gumdrop in the center of each "hat."
Though a step up in difficulty score, A Subtle Revelry's Fringe Cake is not as hard as it looks, especially if you've ever worked with play dough-like fondant. Just make sure you position the better side forward (if you are like me and always end up with a better side).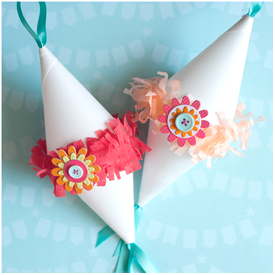 When is a pinata not a time-consuming mess of wet gluey stripes of paper? When it's One Charming Party's pretty Cinco de Mayo mini-pinata. Using paper cones and some crepe paper fringe, these pinatas would look festive hanging or spread across the table. And this is a great way to get rid of that bag of leftover Easter jellybeans! De nada.
Search our archives for even more Cinco de Mayo ideas.