Fire up the grill! Memorial Day marks the unofficial beginning of summer, and that means burgers. And grilling. And yum. To kick off hamburger season, we've rounded up a collection of 7 sensational, mouthwatering burger recipes. There's something for everyone: griller or broiler, carnivore or vegetarian. Sizzle on.
Let's start big and bold: Blue Cheese Burger with Bacon Onion Marmalade from Serving Seconds (above). I honestly don't know what to say about this burger except that it must get in my belly. Now.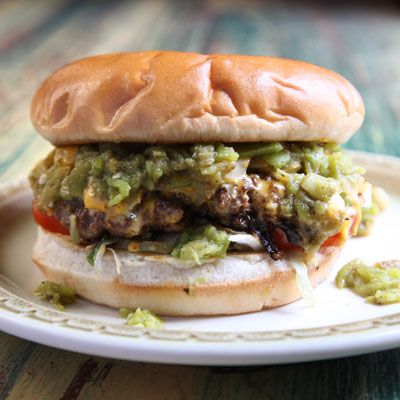 I've been looking for a great Tex-Mex inspired burger recipe for a while. Mission accomplished! Introducing the Green Chile Cheeseburger from Saveur, a twist on a recipe from a well-known chef out of Santa Fe. Trust me, this burger has mad Tex-Mex street cred. If you're craving chiles and guac…this one's for you.
I love the concept of this Burger with Onion Dip and Potato Chips from Real Simple. It's a summer BBQ trifecta, all in one bite. Plus, the kids are less likely to steal your chips when you're not looking.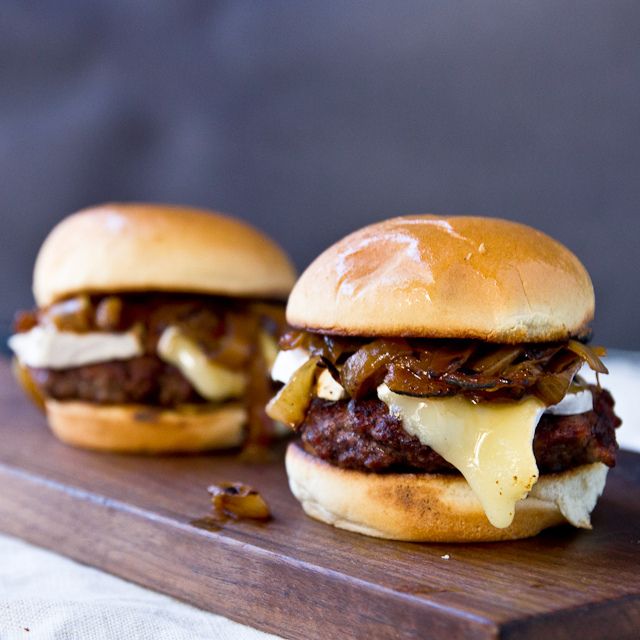 If you're a beer connosseur, these Sliders with Beer Glazed Onions and Brie from Confections of a Foodie Bride may tickle your fancy. For more options, check out this food blogger's entire National Burger Month archive. It's a burger recipe windfall.
When I first saw the Brie and Cranberry Burger from Sprouted Kitchen, I was curious (albeit in a very good way). What do you say we make it with turkey or beef for an exciting Memorial Day side-by-side cook-off?
I'm also digging this Thai Turkey Burger from How Sweet It Is. Jessica uses juicy turkey as the perfect vehicle for her sweet and tangy Thai sauce. Sold!
Hankering for a healthy meatless burger? Do me a favor and back away from the frozen food aisle. Nothing you can get there will come even close to these Spicy Black Bean Burgers from Spoon Fork Bacon. As a once-longtime vegetarian, I still can't get enough of fresh black-bean burgers, and I bet you'll be amazed by the heavenly heft of these. Yum.