For most of us, the school year is all about "keeper" recipes. Dinners you can rely on. Easy sides that the whole family will eat. Recipes that make life easier and more delicious.
We've shared some of our favorite weeknight dinners and best veggie side recipes to help you get back into the swing of school night cooking and now, thanks to two cool moms and former Saveur editors, we've got a whole book of keepers–and a couple of sample recipes right here to get you started.
The cookbook is appropriately called Keepers: Two Home Cooks Share Their Tried-and-True Weeknight Recipes and the Secrets to Happiness in the Kitchen. The recipes at are, as the authors put it, "brag-worthy, reliable, crowd-pleasing preparations that we confidently turn to again and again." Yes, please!
In fact, the tome has already earned a permanent spot on my kitchen cookbook shelf.
Authors Kathy Brennan and Caroline Campion (also known for her blog, Devil & Egg) met while working at Saveur magazine where the two would commiserate about–and sometimes collaborate on–the big question: What's for dinner tonight at your house?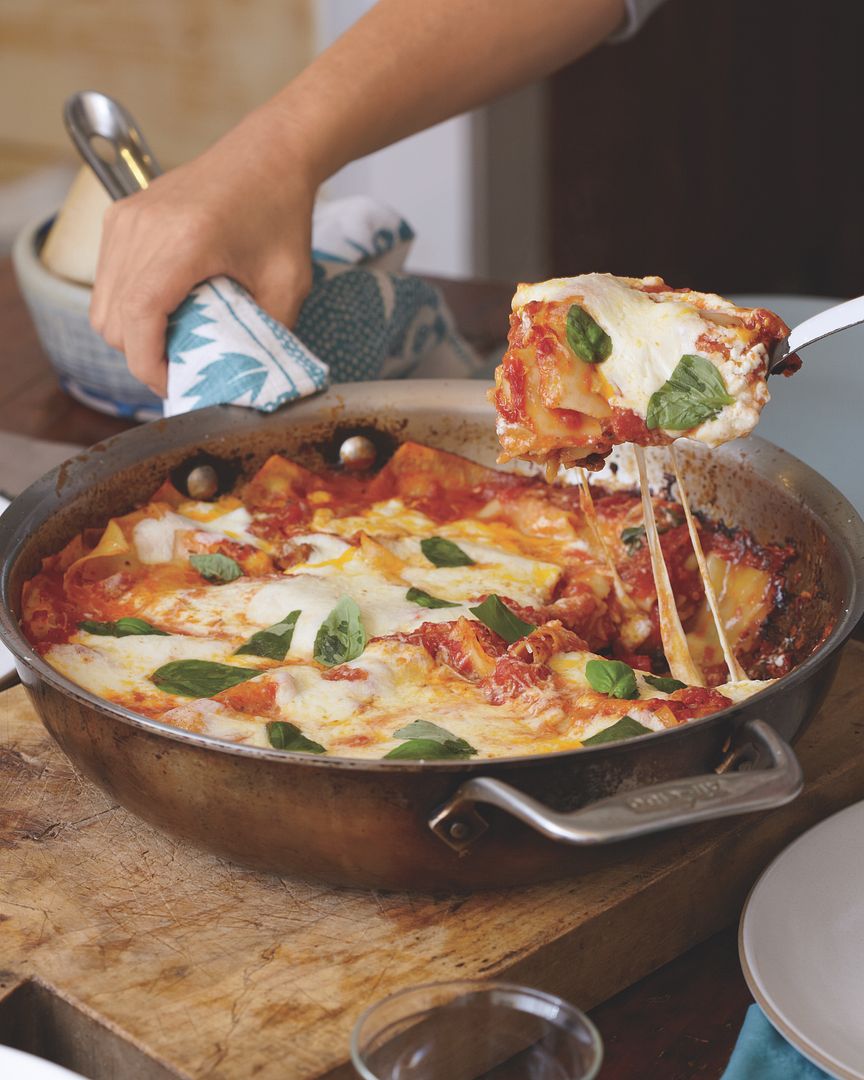 By sharing tips and ideas, they found that they were becoming better cooks. Now they're conspiring to help you become a better, more confident cook, too.
One look at the gorgeous Skillet Lasagna, above, should tell you you're in great hands.
Kathy and Caroline have filled Keepers with practical advice on everything from meal planning (when was the last time a cookbook reminded you to breathe?) to shopping with kids (don't worry, it's awful for them, too). They even give suggestions for families at different stages or with kids of different ages. But my favorite section is "Lifesavers," which is filled with versatile sauces–aka flavor bombs–that can be made ahead, kept in the fridge for up to a week, and make almost anything taste better. Genius.
As for the recipes themselves, if Smoky Turkey Chili, Kale Carbonara, and Black Bean and Butternut Squash Enchiladas sound appealing to you, well, then, there are 126 more killer recipes that you're going to want to make.
Personally, I'm dying to make these Asian Pork Sliders with Magic Miso-Mayo (flavor bomb!) and we've got the recipe right here. You're welcome.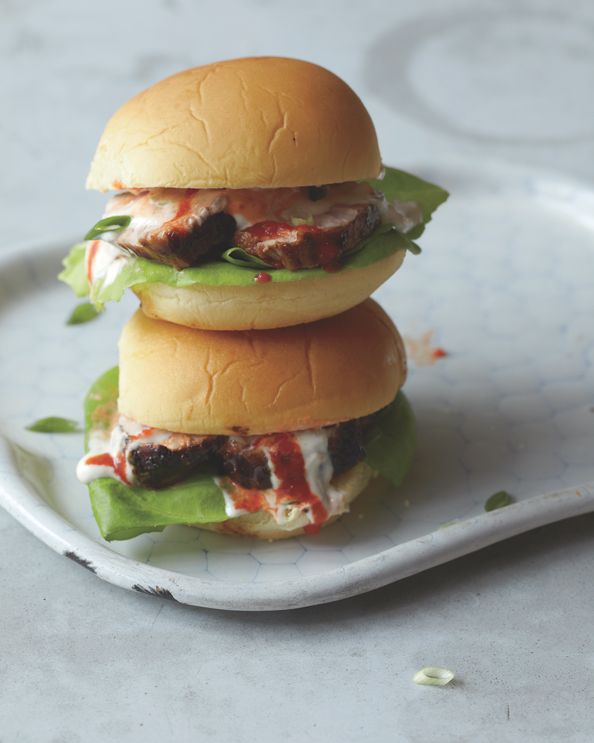 Asian Pork Sliders with Magic Miso-Mayo (above)
Serves 4
2 cups pineapple juice
2 garlic cloves, sliced
1 pork tenderloin (about 1 1/4 pounds)
1 tablespoon vegetable oil
Salt and pepper
1/3 cup hoisin sauce, plus extra for serving
8 dinner-size potato rolls, split
4 scallions (white and pale green parts only), thinly sliced on the diagonal
Magic Miso-Mayo (recipe below), Sriracha or hot sauce of your choice
Put a gallon-size resealable plastic bag in a medium bowl to hold it steady. Add the pineapple juice, garlic, and pork. Seal the bag, pressing out any excess air, and turn it over a few times to coat the tenderloin. Marinate in the refrigerator for 8 to 12 hours (or at room temperature for up to 1 hour), turning the bag over once or twice, if possible.
Preheat the oven to 400°F, with a rack in the middle position. In a medium ovenproof skillet, heat the oil over medium-high heat until it shimmers. Remove the tenderloin from the marinade, pat dry, then season with salt and pepper. Add the tenderloin to the pan and cook until golden brown all over, about 6 minutes total.
Off the heat, brush the top half of the tenderloin with half the hoisin sauce. Put the pan in the oven and roast for 8 minutes. Turn the tenderloin over, brush the top half with the remaining hoisin sauce, and roast until almost cooked through, but still pink, about 6 minutes more. (See page 91 for information on pork cooking guidelines.) Transfer the tenderloin to a cutting board and let rest for 5 to 10 minutes.
Cut the pork into 1/4-inch-thick slices. Serve with the rolls, extra hoisin sauce, scallions, Magic Miso-Mayo, and Sriracha, and let everyone assemble their own sliders.
Magic Miso-Mayo
Makes about 1/2 cup
1/2 cup mayonnaise
1 teaspoon white miso paste
Fresh lime juice
In a small bowl, stir together the mayonnaise, miso, and a squeeze of lime juice until smooth. Check the seasonings. The Magic Miso-Mayo will keep, covered in the refrigerator, for up to 2 weeks.
Get Keepers: Two Home Cooks Share Their Tried-and-True Weeknight Recipes and the Secrets to Happiness in the Kitchen by Kathy Brennan and Caroline Campion through our affiliate Amazon, or from your favorite, local independent bookstore.