Of course we love Westley, even in tiny yarn form. But it doesn't stop with the crew from The Princess Bride. Whatever your favorite iconic movie is, chances are, the adorable Wee Little Stitches shop on Etsy has a DIY cross-stitch pattern and instructions ready for instant download. In fact there are more than 100, from the geeky to the 80s to a custom design of your family. So grab your needle, you're going to need it.
Does anybody want a peanut?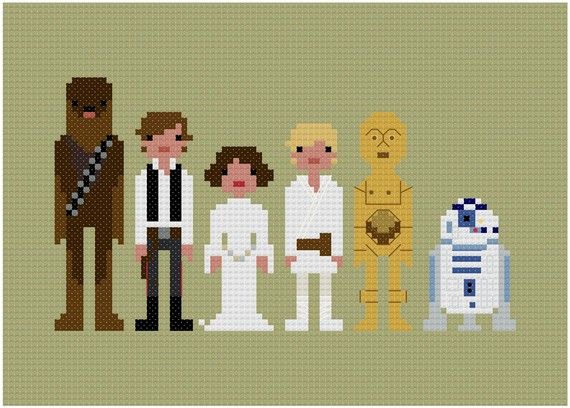 Check out patterns from Star Wars and Doctor Who, to Labyrinth and the Goonies with a quirky shot of The Big Bang Theory and Anchorman–even Golden Girls. And Disney Princesses. Although we would like to see the princesses interspersed with the Golden Girls, personally.
Each pattern can be downloaded instantly and includes complete directions, a full color chart, and tips for beginners. They even have links to videos, if you're starting cross-stitch for the first time. Because cross-stitch is cool now. You knew that, right?
Also cool: You can order custom cross-stitch patterns of people starting at $15, which would make a fantastic Valentine's Day gift. Should your true love look a little different than Westley.
Find dozens of rad cross-stitch patterns at Wee Little Stitches on Etsy.