Leather wrap bracelets are so hot right now and I'm hoping the trend doesn't go anywhere soon. It's the right balance of casual, fun, and a little edgy, and you can pull it off whatever your style. Especially since multi-layered bracelets are really in right now (check out Kristen's swanky arm on our Instagram feed) and bracelets that already wrap around a few times make it even easier to pull off.
Wear one of these gorgeous leather wrap bracelets on their own, or layer with a few other coordinating pieces around your wrist. Or hey–not so coordinating. That's what's fun about it.
Leather wrap bracelet by Chan Luu ($194 at Shop Bop, above)
If you're not familiar with Chan Luu, you can pretty much trace the trend back to this Vietnamese-born designer's amazing work. While there are a ton of knock-offs of her pieces right down to the trademark button clasp, I've been holding out for one of her splurgey originals for ages. And then…I just received this very bracelet as a gift (lucky me, I know!) and I am not kidding, I haven't taken it off for two weeks.  It's way more narrow and delicate than you might think, wrapping around your wrist about five times for each of the five different colored beads.  I may never take it off.
Pink Neon Leather Pyramid Stud Wrap by Gorjana ($75 at Gorjana)
We recently found this adorable leather wrap bracelet that comes alive in bright neon pink. Like it's willing spring to just get here already.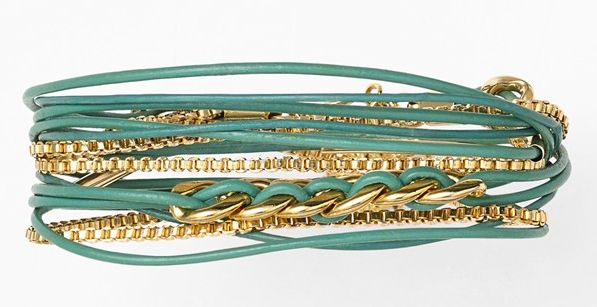 Chain & Leather Cord Wrap Bracelet by Cara ($38 at Nordstrom)
While a lot of the good leather wrap bracelets are pricy, they don't have to be. I really like this fun, affordable piece which balances the glitz and the leather perfectly. It's so nice to just slip a single piece of jewelry on before you head out the door and feel polished.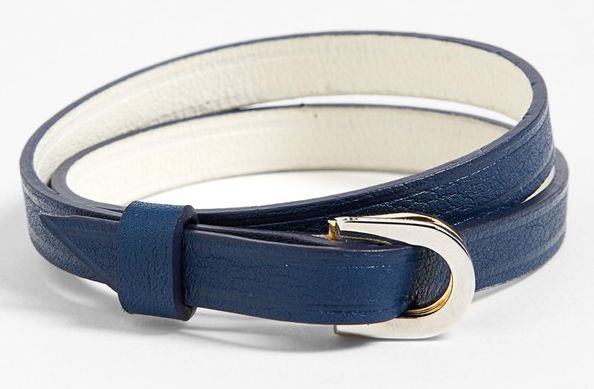 Arlanda Wrap Bracelet by WANT Les Essentiels de la Vie ($165 at Nordstrom)
Navy is always chic and for a less edgy, more preppy take on the leather wrap bracelet, this one is a great choice.  Almost like a watch–but without the watch face. Mother's Day gift perhaps?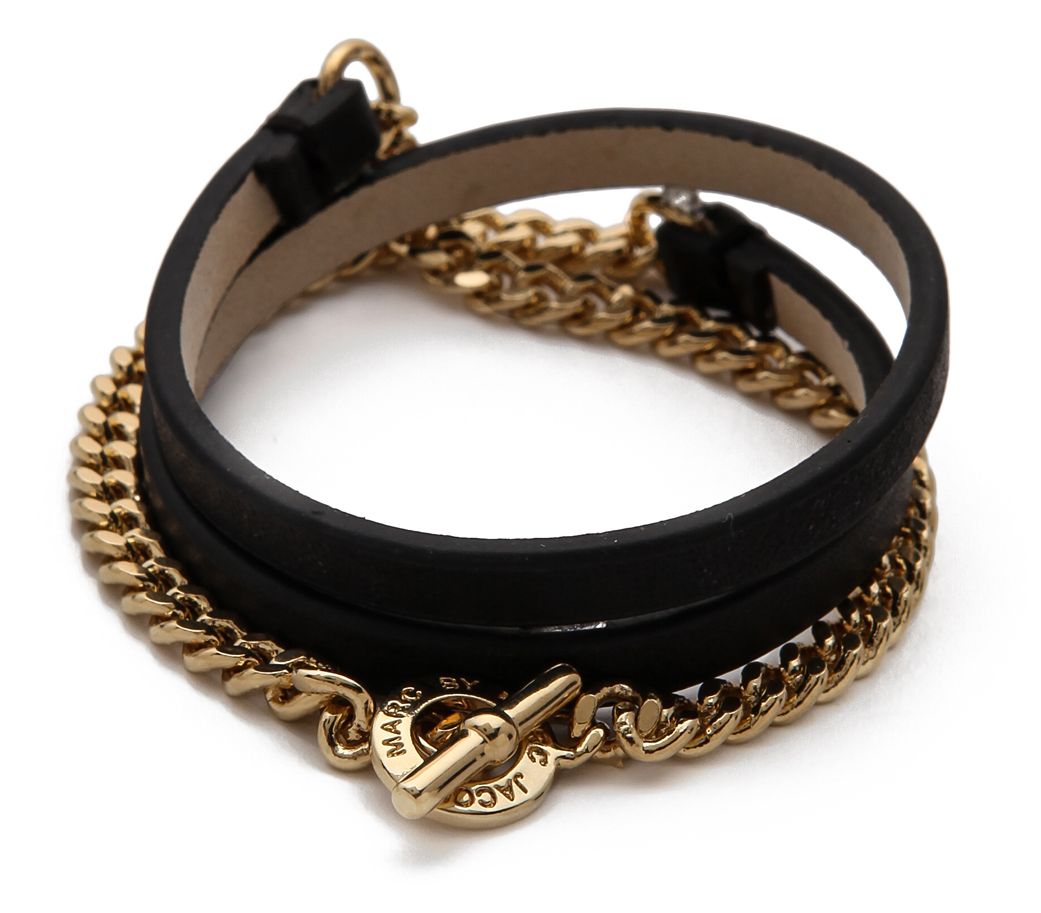 Triple Wrap Leather & Chain Bracelet by Marc Jacobs ($98 at Shop Bop)
If you like your bracelets a little chunkier, Marc Jacobs nails it with this thick gold chain around a simple, double-wrap leather band. This would get a ton of use with my wardrobe.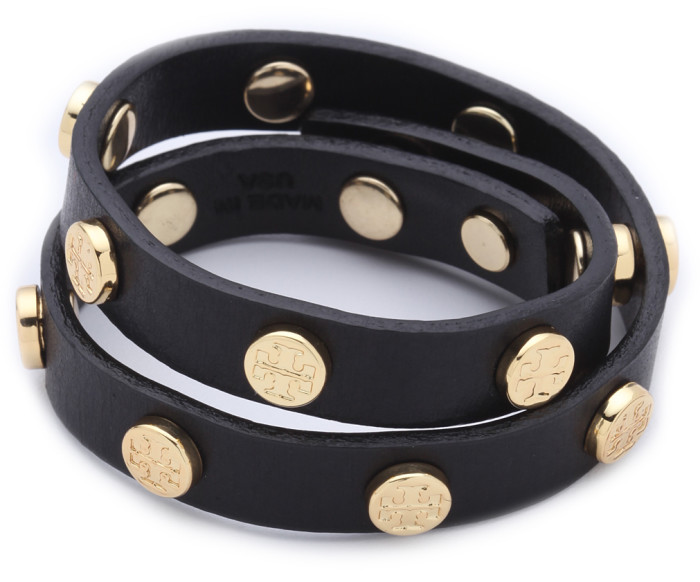 Double Wrap Logo Bracelet by Tory Burch ($95 at Shop Bop, above)
I don't always love logos on jewelry but there's something about the big unapologetic studs emblazoned with Tory Burch's trademark cross that's really fun.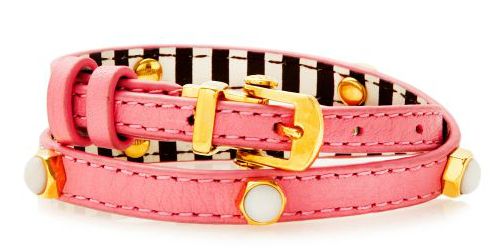 Buckle Up Bold Double Wrap Bracelet ($88 at Henri Bendel)
There's so much that's cool about this wrap bracelet which feels to me like uptown style with a twist. The feminine studs are softer than the spiked jewelry we've been seeing, and that telltale Bendel's striping on the inside is a fun touch.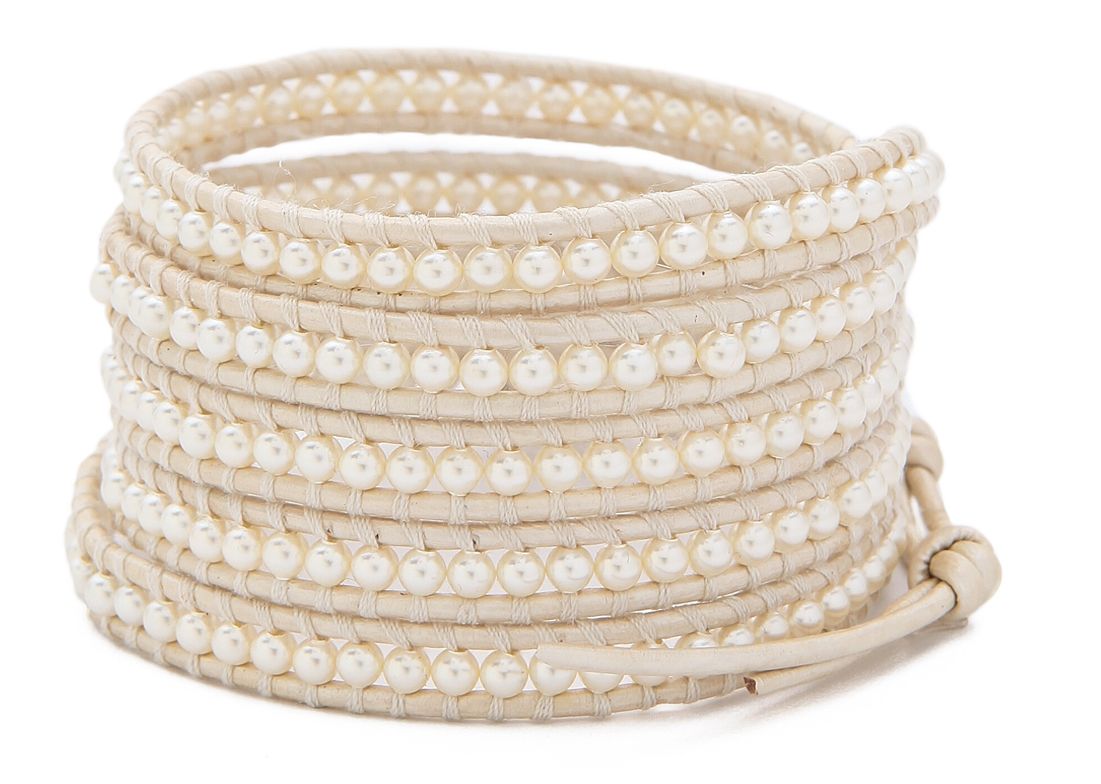 Leather wrap bracelet by Chan Luu ($170 at Shop Bop)
I couldn't resist including one more Chan Luu bracelet. (There are too many to choose from!) The pale color is so elegant with the Swarovski faux pearls and I can just see it on a tan arm with a gauzy floral dress and a tank top. Am I jumping too far ahead to summer?
Cool Mom Picks is an rstyle affiliate