Father's Day is a red letter day, and now maybe even a Green Hornet day. If you need a beautiful, geek chic gift for the Superman in your life–or just the dad who really really loves comic books–this framed Custom Superhero Letter is here to save the day.
This is one superhero gift that's super easy to customize.  Spell out DAD or POP (or BIF OR POW) in his favorite comics, do his initials, or let that iconic "S" speak for itself. Just let the artist from Spotted Flats know which recycled comic, which letters, and what color frame you want, and shazam! In 1-2 weeks, your ready-to-hang piece will arrive with 6″ tall letters mounted to "float" on foam core, just like Thor.
Which means you'd better move faster than a speeding bullet if you want yours in time for Father's Day, or be sure to make the world's coolest IOU. (Which is another set of letters you could spell, though DAD is probably better.)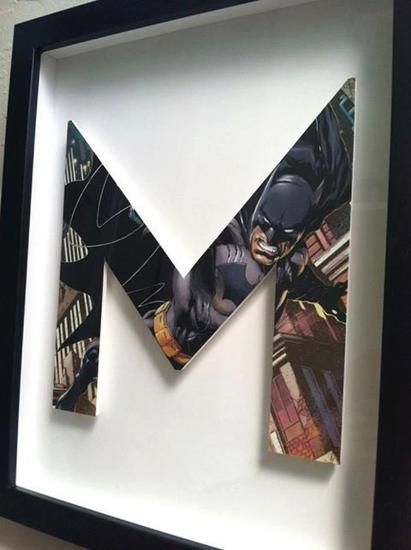 I especially love that you can choose any hero or comic book, which means you can get into Shadowman, Transformers, or Saga if Dad is not into the traditionally popular caped crusaders. Come to think of it, I wonder if they can do Bass Magazine? I'm pretty sure my dad's more into fishing than Batman.
Order your Custom Superhero Letter from Spotted Flats on Etsy or from their shop on Hatch. But hurry! It takes up to two weeks to ship, and Father's Day is coming up fast.