It probably comes as no surprise that my favorite part of camping is campfire cooking. There's something satisfyingly primal about giving up my stove and cooking over an open fire in the great outdoors. And with the right camping recipes—like these 10 for every meal of the day—the results are incredibly tasty. Impressive, even. Too bad I can't say the same about giving up my hairdryer.
A CAMPING BREAKFAST IDEA THAT'S NOT PANCAKES

Pancakes breakfasts are easy enough to whip up while camping if you have a large griddle. However if you don't, flipping flapjacks to order in a small cast iron pan with smoke blowing in your face is not the best way to start the day. (Sadly, I know this from personal experience.)
As an alternative, feed your crowd using this method for bacon and eggs on the grill from Old Wood Fire Grill. The genius use of a muffin tin means that you can cook several portions at once with minimal effort. That's the way to start your day.
AN ALTERNATIVE TO SANDWICHES FOR LUNCH

Building a fire for three meals a day can be a bit much, so sandwiches are a lunchtime camping go-to. One day, though, consider just serving cereal for breakfast and build an afternoon flame to make these Campfire Crescent Roll Dogs from Honest Cooking. Watching the how-to video alone makes me want to go camping, or at least eat a crescent roll-wrapped hot dog at home.
CAMPING SNACK RECIPES
It's so fun to pop your own popcorn in a jiffy using nothing more than popcorn kernels, a dash of oil and aluminum foil. You can also add a little grated Parmesan to make a savory Campfire Parmesan Popcorn from Kitchen Concoctions. Mmmm, cheesy.

Just because we're camping doesn't mean we can't be a little fancy, and while this is a great snack, this Campfire Spinach Dip from Twin Dragonfly Designs can also serve as a perfect appetizer while you're waiting for dinner.  Pour yourself a beer or glass (flask?) of wine and dip in. How civilized!
CAMPING RECIPES FOR DINNER
Camping doesn't have to mean canned foods and processed shortcuts. Wrap some healthy, whole foods in tin foil packets and you're in business. Don't believe me? Just check out these 3 real food campfire meals on Simple Bites: Beef Stew Packets, Campfire Toasted Burritos, and easy Lemon Dill Grilled Fish Fillets, seen above. (With all due respect to those delicious hot dogs on a stick.)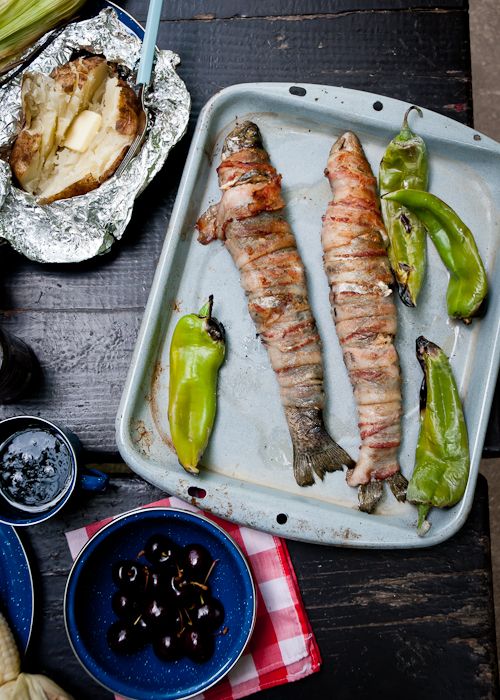 If the spinach dip got you in the mood for something that feels more glamping than camping, try this Bacon-Wrapped Trout recipe from Design Mom. How delicious does that look? It's simple, too, and the recipes come with 23 secrets to cooking on a campfire from what to pack, to how to pack it, and even genius campfire tips.
CAMPING RECIPES FOR DESSERT
Of course the real reason I love campfire cooking: dessert! S'mores is the classic camping treat while we've covered lots of them, I love this S'Mores Dip recipe variation from Hungry Brownie. Elaine created the recipe for the stovetop, but it works just as well over a campfire. You can even have the kids make their s'mores the old fashioned way with sticks, while the grownups sit back with a big ol' skillet of  dip and watch. Perfect.

There's more to camping desserts than s'mores. There are also Campfire Pies. These tasty treats come together with nothing more than sandwich bread, cinnamon sugar and fresh fruit or pie filling. You can learn how to put them together and get tons of filling ideas over at Andrea's Recipes.

This Gooey Chocolate Skillet Cake from Willow Bird Baking isn't specifically a camping recipe but, lucky for us campers, it's perfectly suited for campfire cooking. Think warm chocolate cake made without mixing bowls over an open flame.
Another classic camping dessert, Campfire Banana Boats are an ingenious way to get a gooey, chocolately, bananatastic dessert going in no time. These, seen at Suburble, are best loaded to the max, so if you're a nut-eating family, I suggest adding peanut butter chips, too–while Tara recommends butterscotch trips. Yum. Hopefully you have a stream nearby for some natural handwashing. You'll need it.