We've hit that sweltering time of summer when it feels like we're about to melt here in the south, so I'm pulling out my popsicle molds and making the desserts my kids beg for on really hot days. Even though the flavors of these gourmet popsicle recipes are worthy of my local high-end popsicle stand, all of these recipes are easy enough to make with my kids. In fact, the hardest part will be just waiting for them to freeze. Unless of course you have a Zoku.
With just the right amount of sweetness but still deliciously tart, the Grapefruit and Strawberry Greyhound cocktail popsicle (at top) by Bakers Royale sounds just perfect to me. When my kids are helping, I leave out the vodka and add a splash more grapefruit juice. Still delicious.
Bomb pops have to be the iconic popsicle of the summer. I can almost hear the ice cream truck music now. I have a feeling my kids will be super excited to make their own at home, and this gourmet popsicle recipe for real fruit bomb pops by Spoon Fork Bacon ups the ante while keeping things simple. Each mixture has to chill for quite a while, and each layer has to freeze individually for some time too, so prepare your kids for the fact that this might be a dessert they eat tomorrow. Good lesson in delayed gratification.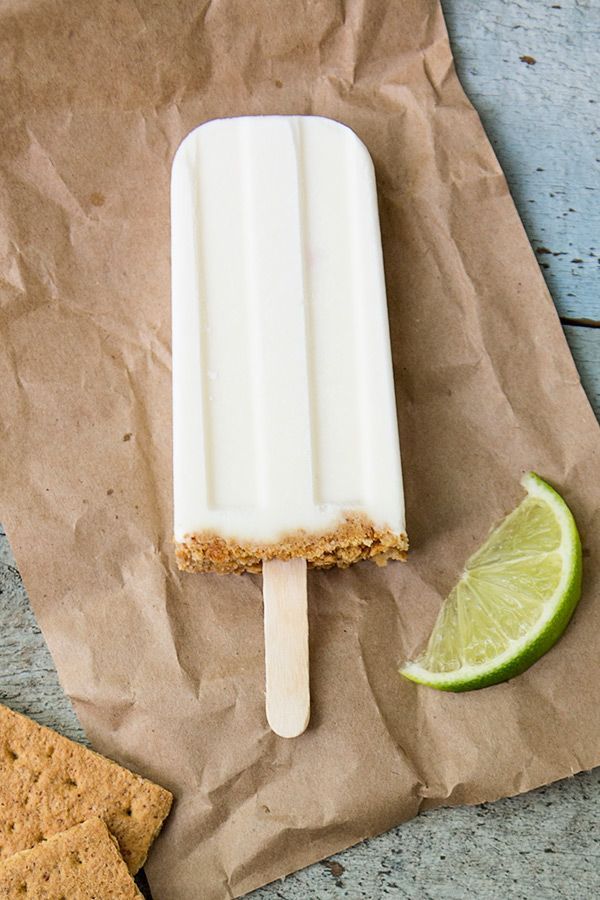 Key Lime Pie is one of my very favorite summer desserts. This key lime popsicle recipe at Attune Foods is a healthy twist, with a base made of Greek yogurt and honey instead of condensed milk. And how genius is that graham cracker "crust" at the bottom?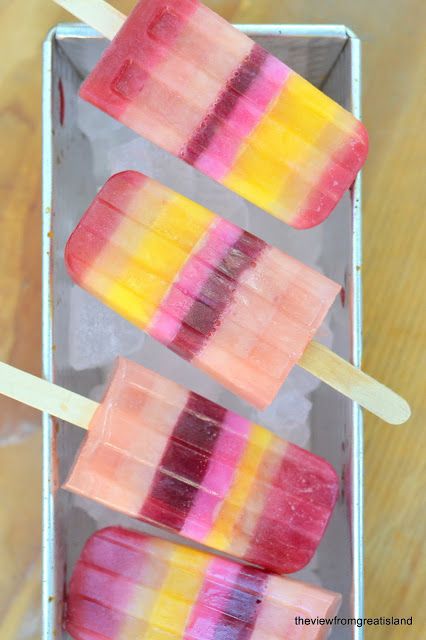 These fruity striped popsicles at The View from Great Island are so summery. Your kids each pick their favorite fruit flavors, and they'll be wowed by the results. Amazing, right? You can do as many different layers as you want; just plan to wait about 30 minutes between layers to let them freeze–again, unless you have a Zoku popsicle maker. Have we told you lately how much we love that thing?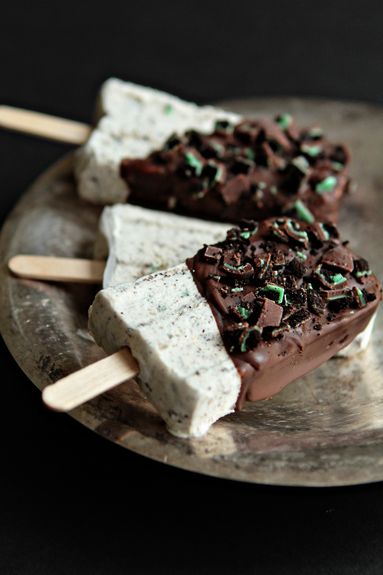 Gourmet popsicles don't have to be about fruit. These Mint Chocolate Cheesecake popsicles by Jamie of My Baking Addiction, for the Good Life Eats blog, aren't as simple as pouring juice in a mold, but they're no more difficult than mixing up a cake either. The cream cheese and whipped cream make these kind of soft when they're frozen, like an orange creamsicle, but way better. My kids love dipping the frozen popsicles into the chocolate shell. And I love eating them.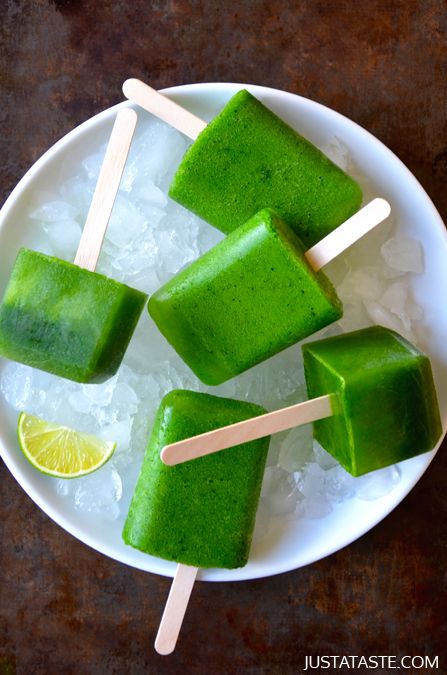 Green juice is a big hit around our house. My kids have no clue that they're drinking a big dose of healthy veggies in each glass, and I plan to keep it that way as long as I can. I really want to try these delicious but healthy green juice popsicles with my kids found at Just a Taste. They call for kale, cucumber, and celery, with the sweetness of apples, fresh pineapple and honey or agave nectar. I'll probably blend up all the veggies first (so I don't get any "ew, kale!") and let the kids stick with blending the fruit in the recipe.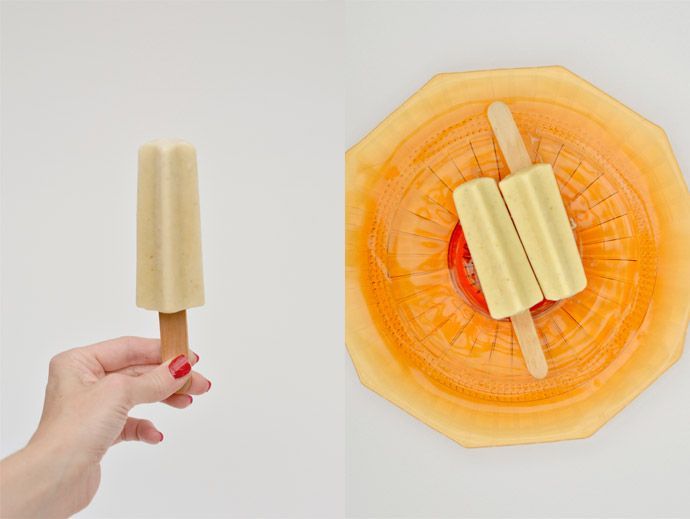 I can't resist homemade peaches-and-cream ice cream in the summer, so I can't wait to try these Peaches 'n Cream with Basil and Honey Popsicles. They sound complicated, but looking at the recipe on Swoon Studio, are actually very simple to make. And the fresh herbs will make them so much more sophisticated than a more traditional recipe. I think it's best to peel and pit the peaches myself before my kids join me in the kitchen to help with this one.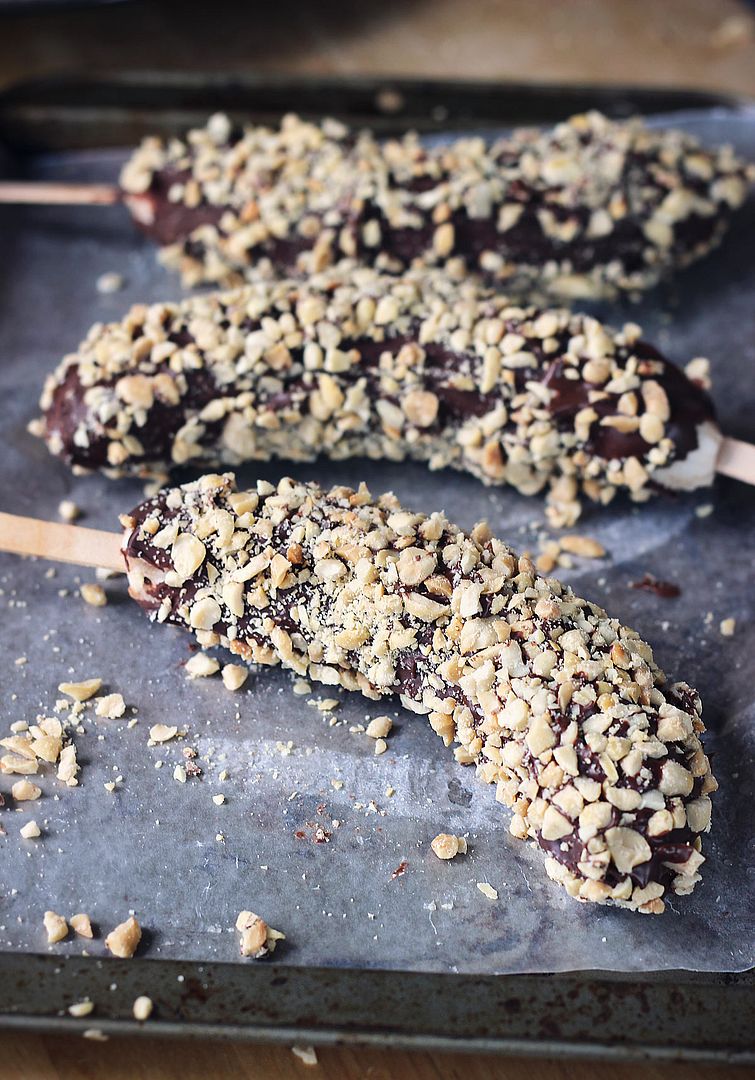 Despite being a huge fan of Arrested Development, I haven't actually tried a frozen banana popsicle before–mainly because the packaged kits at the grocery just look so gross. But the Chocolate-Covered Frozen Bananas by Carpé Season look delicious. What kid can resist these?
As an alternative, check out the why-didn't-I-think-of-that twist of Peanut Butter Covered Bananas from Thoughtfully Simple. Yum.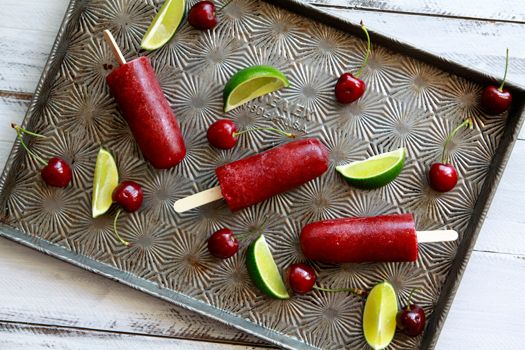 Cherry limeade is one of our family's favorite summertime special occassion drinks and it's been the reason for more than one impromptu swing through Sonic, I'll admit. So this recipe for gourmet cherry limeade popsicles at Simple Bites is calling my name. There are a few steps involved in making the limeade if you go totally homemade, so when I'm prepping these with my kids I'll plan to make that ahead of time–or, you know, just grab a bottle of all-natural limeade at the store. Done.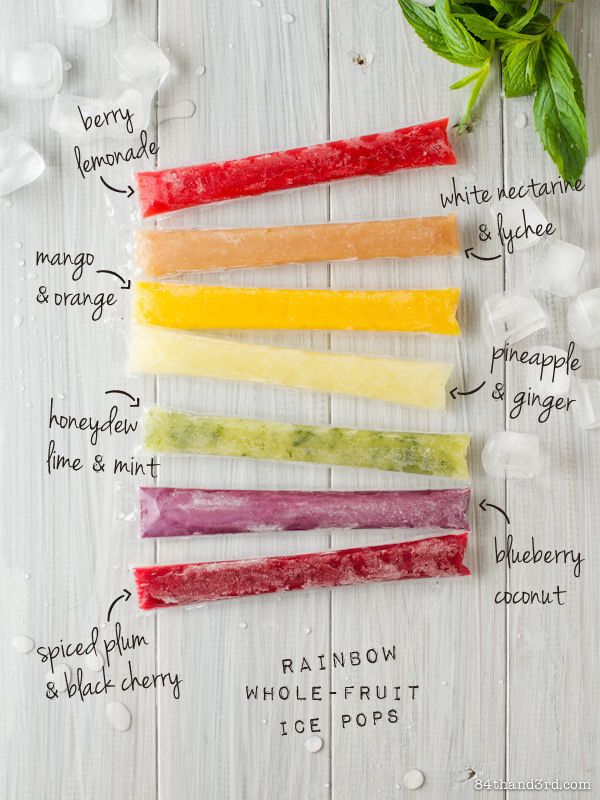 I loved ice pops as a kid, but I did not love when all the flavor ran out after a few seconds and I was just left with, well, ice. My lucky kids are about to have their lives changed. These flavorful recipes for Rainbow Whole Fruit Ice Pops that we spotted back this spring at 84th and 3rd, are made from whole fruit–no water–so every last squeeze will be full of flavor. And they couldn't be easier to make. Really! Just blend and pour.
For more sweet summer refreshment, check out our posts on homemade popsicle recipes for the Zoku maker,  the best ice cream recipes, and great recipes for making ice cream without an ice cream maker.